Norah Jones Little Willies Classic Records Clarity 200 Gram Lp +bonus 45 Single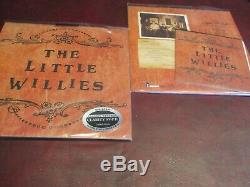 NORA JONES THE LITTLE WILLIES NORAH JONES PROJECT 200 GRAM LP + BONUS 7. This Classic RECORDS Limited 1st Edition Audiophile Rare Out of Print LP'S were mastered from the Original Session Tapes to 200 Gram Heavy Virgin CLARITY SV-P II HAND MADE THE SUPER PROVILE II VINYL.. COLLECTORS NOTE TO VERIFY 1ST EDITION 200 GRAM PRESSINGS CLARITY SV-P II VINYL BLACK & SILVER STICKER ON THE PLASTIC WRAP IN EACH LOWER RIGHT HAND CORNER. This Classic Records Limited 1st Edition Stereo Audiophile LP which is a 1st generation 200. Gram out of print pressing and gone from the collectors market forever. Only way to verify a collector owns a 1st edition audiophile pressing. This in the long term will add tremendous value to your collection since these 200 SV-P II gram pressing were so very limited in production. Each was mastered from the Original Session Tapes to 200. Gram Heavy Virgin Vinyl & will give you the feeling your right in the studio with the artist. & TYPE IN NORA JONES INTO THE SEARCH FIELD WITHIN OUR STORES SECTION AS YOUR PERSONAL CODE AND ALL INDIVIDUAL TITLES + INFORMATION WILL APPEAR. Classic Records has proven to be an Audiophile Company second to none in the new millennium. But - ALL CLASSIC RECORDS TITLES ARE NOW OUT OF PRINT SINCE THE COMPANY WENT OUT OF BUSINESS IN 2010.
These Editions have become some of the rarest pressings in the Audiophile Collector's Market. Just try to find them at any Audiophile Retailer. When you take that into consideration, what will this Editions Audiophile Pressing will be worth in the years ahead? It could be one of the most collectible pressings ever in THESE Editions especially since Classic records is no longer in business.
How rare and valuable are each one of these sets now still Factory Sealed Priceless! Mymusicfix has a very limited amount of these now Rare Factory Sealed pressings. We're sure you may not have known about some of these titles existed. Have fun collecting these Masterpieces! These are tremendous titles and artists that Mymusicfix still has in these CLASSIC RECORDS EDITIONS but we have very few pieces left of each title and prices will continue to rise as inventory continues to dwindle.
THE LITTLE WILLIES NORAH JONES PROJECT 200g LP + BONUS 7. Classic Records' newest formulation: CLARITY SV-P II CLEAR VINYL!
The genesis of the new formula came as a result of a visit to High End Audio's self proclaimed Vinyl Guru Michael Fremer's Analog Laboratory. Fremer demonstrated a Furutech LP demagnetizer.
After using the demagnetizer, vocals had so much more texture, bass definition and clarity of every nuance of the recording was vastly improved and there was more low level information than we had ever heard in the recording. Why did the demagnetizer had the sonic effects on a record? Very simply the carbon black that is ADDED to vinyl for LP manufacture contains trace metals that become randomly magnetized and interfere electrically with the cartridge hanging overhead during play. If carbon black and the trace metals contained therein caused playback distortion in the cartridge then why not take out the carbon black altogether? Classic Records Clarity SV-P II Clear Vinyl is the answer! Clarity Vinyl represents the ultimate in vinyl formulations because it is comprised of over 90% percentage of the highest quality co-polymer available - a key component in vinyl pellets used for manufacturing vinyl records. Further, Clarity Vinyl has no carbon black additive, common in vinyl formulas for LP's. Carbon Black contains trace metals that become magnetized and cause "electrical distortions" in cartridges during playback that smears the sound. By taking out the Carbon Black, Classic Records is able to dramatically reduce the "electrical distortions" and thus bring more "Clarity" to the playback process, providing a more realistic musical experience to the listener and LP enthusiast. The self-titled debut by The Little Willies is an album that perfectly distills the fun, down-to-earth spirit of this New York bands club shows.
The group tears through a mix of covers and originals, from the revved-up western swing of Fred Roses Roly Poly and Willie Nelsons I Gotta Get Drunk to the cutting wit of Kris Kristoffersons Best Of All Possible Worlds; from the poignancy of Townes Van Zandts No Place To Fall to the cosmic absurdity of their own Lou Reed. The Little Willies formed for purely practical reasons. In 2003, the group of five friends, who were all individually involved in other projects, booked a gig at The Living Room on New Yorks Lower East Side as an excuse to spend an evening playing music together. They soon discovered that they shared a deep musical vernacular. The members of The Little Willies all grew up listening to a certain breed of classic American music: the songs of Hank Williams, Willie Nelson, Townes Van Zandt and Kris Kristofferson, to name a few.
Over the next couple years, The Little Willies continued to play, adding a few originals to their setlist along the way. The group initially contemplated a live album, but when Jones and Alexander completed work on their home studio, they decided to christen the space with a Little Willies recording session. The resulting album showcases the groups core strengths, while maintaining the loose, spirited, bar-band feel of The Little Willies live experience.
Includes a bonus 7 single of two alternate tunes:'Milking Bull' and'For the Good Times' which have not been released in any other form. Musicians: Norah Jones, piano, vocals Richard Julian, guitar, vocals Lee Alexander, bass Jim Campilongo, electric guitar Dan Rieser, drums The Ordinaires, background vocals Jon Dryden, organ, accordion Features: Quiex Clarity SV-P II Clear Vinyl 200g Includes 7 Vinyl Disc Selections: 1. I'll Never Get Out Of This World Alive 3. Its Not You Its Me 5. Best of all Possible Worlds 6.
No Place to Fall 7. I Gotta Get Drunk 9. Easy as the Rain 11. Lou Reed 7 Vinyl: 1. Mymusicfix has been told we have the best collection of Rare, Out of Print music collectibles on E-Bay.
Srollins cllp 1stedition cllp LPVALUE LPVALUE2 180G JAZ. FACTORY SEALED OUT OF PRINT PRODUCT is IRREPLACEABLE and therefore NOT RETURNABLE. Because of Postal Regulations in following countries -- U. (England, Ireland, Wales and Scotland), SOUTH AMERICAN COUNTRIES, QATAR, PHILIPPINES, SRI LANKA, ISRAEL, RUSSIA, MEXICO and MALTA. The item "NORAH JONES LITTLE WILLIES CLASSIC RECORDS CLARITY 200 GRAM LP +BONUS 45 SINGLE" is in sale since Monday, September 30, 2019.
This item is in the category "Music\Records". The seller is "mymusicfix2" and is located in Lake Forest, California. This item can be shipped worldwide.
Country/Region of Manufacture: United States
Style: Cool
Duration: LP
Speed: 33 RPM
Record Size: 12"
Record Label: CLASSIC RECORDS
Release Year: 2006
Edition: Collector's Edition
Genre: Jazz
Special Attributes: 180 - 220 gram