Verve Records Audiophile Limited Edition 13 Lp Set + Seven CD Singles & Remixes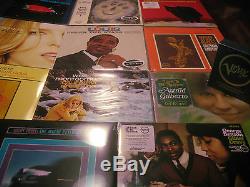 THE VERVE 12 VINYL TITLES WITH 13 SIDES OF VINYL AND VERVE SINGLES FIVE CD COLLECTION & TWO VERVE REMIXES CD'S - FOR THOSE AUDIOPHILE THAT WANT THE BEST OF AUDIOPHILE VINYL AND CD'S WITHIN THEIR COLLECTION. & TYPE IN JAZ OR FOR OTHER VERVE TITLES USE THE CODE VERVE INTO THE SEARCH FIELD WITHIN OUR STORES SECTION AS YOUR PERSONAL CODE AND ALL INDIVIDUAL TITLES + INFORMATION WILL APPEAR. Verve - The Sound Of America - The Singles Collection is a 5-CD collection featuring 100 singles from the Verve catalog - over 20 of which have been out of print for years.
Packaged in a stylish, two-part, lift-off box Verve - The Sound Of America includes a 48-page booklet and extensive liner notes. Verve - The Sound Of America - The Singles Collection takes you through the history of one of the most influential jazz labels of all-time with tracks such as Ella Fitzgerald's Top 50 hit'Mack The Knife' (1960); Stan Getz & Joao Gilberto's Top 5, GRAMMY® Award winning hit'The Girl From Ipanema' (1964) Jimmy Smith's Top 100 hit'The Cat' (1964) and Diana Krall's'The Look Of Love' (2001). Also featured are jazz renditions of contemporary classics such as Wes Montgomery's version of The Mamas & The Papas' classic hit'California Dreaming' (1966), Don Sebesky's version of the Beatles'The Word' (1968) and Willie Bobo's original version of'Evil Ways' (1968) the song made famous by Santana. The box set will be issued in conjunction with the lavishly illustrated 400-page book, Verve - The Sound of America, published by Thames & Hudson which will release on November 4, 2013.
Founded in 1956 by jazz impresario Norman Granz, Verve Records, along with its associated labels, has consistently been the forefront of jazz's development as both an American art form and an influential commercial force for more than half a century. FACTORY SEALED ELEVEN 180 Gram VINYL MASTERPIECES LP SET - High definition analog vinyl pressing for superior fidelity.
The nicest thing you can do for your stylus and ears. The ultimate record the way music was meant to be heard. You should never pass up the opportunity to upgrade your collection. They're each very limited in their pressings and disappear with extraordinary quickness from the vinyl market. This causes prices to skyrocket because once they are gone, they are gone forever!
Don't second-guess yourself with this chance to upgrade your collection because before you know it, the opportunity will have passed forever. COLEMAN HAWKINS - ALIVE AT THE VILLAGE GATE - TREMENDOUSLY RARE LONG OUT OF PRINT AUDIOPHILE CLASSIC RECORDS PRESSING. COLLECTORS NOTE: THESE CLASSIC RECORDS AUDIOPHILE VINYL. OUT OF PRINT AUDIOPHILE MASTERPIECES WAS A COMPANY THAT NEVER PLACED A BARCODES ON THE JACKET SO THE COLLECTOR WOULD HAVE A PRISTINE JACKET JUST LIKE WHEN THE LP WAS ORIGINALLY RELEASED.
Classic Records (WHICH WAS THE #1 AUDIOPHILE COMPANY IN THE USA BEFORE GOING OUT OF BUSINESS SOME YEARS AGO) has proven to be an Audiophile Company second to none in the new millennium. But Classic Records, unlike other top Audiophile Companies, does not place Limited Edition numbers on their LP jackets. 6 years ago, Classic Records changed their vinyl weight from 180 gram to 200 gram. Mymusicfix knows no expert that has been able to decipher a true difference in quality with this 20 gram weight increase AND MOST AUDIOPHILE'S FEEL THESE 180 GRAM PRESSING WERE THE FINEST EVER MADE.
What this change did for Collectors of the finest vinyl pressings was establish a First Edition element to Classic Records Audiophile pressings. All Classic Records 180 Gram pressings are now Out of Print and Very Limited Edition Collector's First Edition Pressings. In the long term, First Editions will be what Collectors seek. When you look at Classic Records First Edition 180 Gram pressings. It could be one of the most collectible pressings ever in this 180 Gram First Edition.
This live 1962 jazz club set features "The Bean" in a prolific and virtuosic mood. The trio of Tommy Flanagan on piano, Major Holly on bass, and Eddie Locke on drums fits Coleman. Rated four stars by Down Beat as its 1963 release, this is true jazz excitement from Classic Records. Features: 180 GRAM Vinyl 33&1/3 LIMITED EDITION AUDIOPHILE PRESSING Musicians: Coleman Hawkins, tenor sax Tommy Flanagan, piano Major Holly, bass Eddie Locke, drums.
Memorable live set from Hawkins with a quartet featuring Tommy Flanagan on piano and produced by Creed Taylor. All the Things you are. Joshua Fit the Battle of Jerico. ELLA FITZGERALD CLASSIC RECORDS 200 GRAM ORIGINAL - CLAP HANDS HERE COMES CHARLIE. COLLECTORS NOTE : CLASSIC RECORDS - 200 GRAM AUDIOPHILE FIRST EDITION ORIGINAL SEALED LP - TREMENDOUSLY RARE OUT OF PRINT VERY LIMITED EDITION PRESSING RUN - WITH THE COMPLETE PLASTIC WRAP SEALING THE ITEM NOT THE SECOND GENERATION WITH THE 3/4 SEAL AND THE STICKER ON TOP AS THE SEAL.
INFO ABOUT Classic Quiex SV-P - Super Vinyl. Is a vinyl formulation noticeably superior to all previous vinyl formulas used. The music on records made using Classic Quiex SV-P is more detailed, has richer harmonics and a more precise soundstage presentation Quiex SV-P is used exclusively and will have a sticker that identifies them as such.... This Heavy Vinyl LP has been.
Critically acclaimed as the finest and quietest ever. It is a new listening experience that will virtually make you feel as if you were in the studio with the band. So, sit back, relax, enjoy the music, and remember the sound. This 200 Gram Heavy Vinyl LP mastered by Classic who have been critically acclaimed as the finest and quietest ever produced. It is a new listening experience that will virtually make you feel as if you were in the studio with Ella. This early'60s studio session captures Ella Fitzgerald moving toward the smaller, more pointedly jazz-inflected ensembles that would shape her career in her final decades. After the lush orchestrations of her classic series of composer songbooks, which found her collaborating with the best arrangers, the intimate scale and easy interplay of a crack band provide a wonderful platform for the spirited performances here. That Ella herself savored the opportunity is reflected in a program that includes Thelonious Monk's "After Midnight" and a breezy, potent ride through the Charlie Parker/Dizzy Gillespie anthem, Night In Tunisia. With a mix of bona fide standards and revived swing classics, this is a rediscovered gem, cause enough to clap hands. Tracks include: Night in Tunisia 2.
You're My Thrill 3. Cry Me a River 9. This Year's Kisses 10. (I Was) Born to Be Blue 12. Spring Can Really Hang You up the Most 14.
Music Goes'Round and Around. Wes Montgomery - CALIFORNIA DREAMING. Sealed 180 Gram AUDIOPHILE Analogue Virgin Heavy Vinyl Pressing NOW LONG OUT OF PRINT FROM THE AUDIOPHILE COMPANY CISCO RECORDS. CISCO RECORDS WENT OUT OF BUSINESS SOME YEARS AGO AND THEY INDIVIDUALLY NUMBERED EACH OF THERE VINYL MASTERPIECES FOR COLLECTORS. THIS IS NOW A PIECE OF VINYL HISTORY AND HAS CAPTURED THIS WES MONTGOMERY MASTERPIECE FROM VERVE RECORDS LIKE NO OTHER PRESSING EVER.
INFORMATION ABOUT THESE CISCO RECORDS NOW LONG OUT OF PRINT AUDIOPHILE MASTERPIECES. THESE VINYL MASTERPIECES ARE NOW A PIECE OF VINYL HISTORY AND EACH HAS CAPTURED THESE MASTERPIECES FROM LIKE NO OTHER PRESSING EVER & EACH IMPOSSIBLE TO FIND STILL SEALED. COLLECTORS NOTE: THESE CISCO RECORDS AUDIOPHILE VINYL. ALSO COMES WITH COLLECTOR'S UPGRADED PACKAGING RESEALABLE PLASTIC WRAP FOR STORAGE OF THIS COLLECTIBLE.
All are Limited Edition 180 Gram collectors items. This LP is a piece of musical audiophile history and is the only Analogue Mastered Pressing of this title. So don't miss out.
Would make a great GIFT for any jazz/Wes Montgomery fan. One of the greatest guitarists in the history of Jazz. As Wes Montgomery sailed into ever-poppier waters towards the end of his career, two things remained constant: he kept writing and including original tunes on his albums, and he kept playing and including the blues in one shade or another.
Another big band-orchestrated Verve album, we get "Sun Down, " a six-minute original blues, cut for the most part with just the first-call rhythm section of Herbie Hancock, Richard Davis, Grady Tate and Ray Baretto. Walker, is just as cooking, and dates from Montgomery's second Riverside album, the aptly titled.
Incredible Jazz Guitar of Wes Montgomery. Emphasizes groove tunes over ballads and keeps the pop challenges to a minimum. LOUIS ARMSTRONG - Louis Under the Stars - CLASSIC RECORDS LIMITED EDITION AUDIOPHILE 200 GRAM PRESSING. The companion piece to Armstrong's I've Got The World on a String. Both were recorded at the same one-day session on August 14, 1957. Fronting an orchestra conducted by Russ Garcia, Armstrong swings and sings his way through another collection of standards as only he could.
The CD booklet front cover features the famous, original Phil Stern color portrait of Louis, long unavailable. Originally produced by Norman Granz for Verve Records for release in 1958. Top Hat, White Tie and Tails.
Have you Met Miss Jones? I Only Have Eyes for you. East of the Sun (And West of the Moon). GEORGE BENSON - Giblet Gravy - LIMITED EDITION AUDIOPHILE 180 GRAM PRESSING. Back to Black label's first jazz reissue series. Mastered at Abbey Road Studios, 180-gram vinyl. Features: 180 Gram Vinyl LP Mastered at Abbey Road Studios Back To Black's First Jazz Range Legendary Verve Title. George Benson is one of the modern era's truly great guitarists, who when he sticks to playing the guitar has few rivals.
This is very much Wes Montgomery territory, but Benson is no Montgomery copyist; he creates complex tapestries with his rhythmic melody lines that give him a unique sound. Most of the tracks are covers, as was popular at the time, but the title track and "Low Down And Dirty" are written by Benson. Photographer and producer Esmond Edwards had worked at Prestige Records prior to taking over from Creed Taylor at Verve and he had an impressive list of credits to his name, including Miles Davis. ASTRUD GILBERTO LOOK TO THE RAINBOW 180 gram LP.
Pressed at Pallas in Germany! Astrud Gilberto sings a mist of sound. Her voice is small and soft and very intimate. Although it has been described as "the sound of yearning innocence, " it is also the sound of hushed intimacy.
Astrud married Joao Gilberto in 1959 and emigrated to the U. It was her first professional appearance as a vocalist. She has absolute command of bossa nova songs, and creates fresh and incisive renditions of American popular songs. This album is Astrud's third. This was a beautiful bossa nova record of Astrud Gilberto's vocal stylings... All the material here, with the exception of "Learn to Live Alone" and "Pretty Place, " which were arranged by Al Cohn, were arranged by Gil Evans. With the exception of a Johnny Coles trumpet solo, the personnel was uncredited on this 1966 recording. Discographies have credited Bob Brookmeyer (valve trombone), Kenny Burrell (guitar), and Grady Tate (drums), but except for a few bars of sax, there was no solo indivdualism in this large Creed Taylor-produced orchestra. Bob Rusch, allmusic Features: 180g Vinyl Pressed Vivante Records UK. High Quality Pressing Pure Analogue Audiophile Mastering Selections: Side 1: 1. Once Upon A Summertime 3. I Will Wait For You 5. Maria Quiet (Marie Moita) 2.
Look To the Rainbow 3. El Preciso Aprender a Ser So (Learn To Live Alone) 6. The Oscar Peterson Trio Night Train Limited Edition 180g.
Oscar Peterson has thoroughly assimilated not just every piano style that preceded him but every ensemble idiom as well: swinging big bands, gospel, European classical, and, of course, the blues. Having mastered all of this, Peterson found the standard piano trio the perfect vehicle for exploring all of these types of music. In this classic LP, the crowning achievement in his greatest year, Peterson doesn't just explore these styles - he conquers them. Musicians: Oscar Peterson, piano Ray Brown, bass Ed Thigpen, drums. Georgia On My Mind 4. Things Ain't What They Used To Be 9.
I Got It Bad and That Ain't Good 10. Stan Getz Big Band Bossa Nova 180g LP.
The Stan Getz LPs "Jazz Samba" for small ensemble and the classic Focus for big band were surprisingly big sellers - so it is no wonder that Verve producer Creed Taylor, himself an arranger and fan of light, airy strings, put the two components together. The young Gary McFarland took melancholy Brazilian themes by Antonio Carlos Jobim, Joao Gilberto and Luiz Bonfa, wrote four songs himself and combined the lightfootedness of the bossa nova with the cool, toned-down emotions so typical for Stan Getzs sound in the Sixties. Verve gathered together the best musicians for the studio recording: Clark Terry, Bob Brookmeyer and Jim Hall were there to produce a carpet of sound over which Stan Getz could float.
At the beginning of the Sixties Stan was, of course, at the very top of his form as far as sound perfection goes. After apprenticeship with swing bands in the mid-Forties and further training with classical small ensembles in the Fifties, he found his ideal source of the art of improvisation: Brazilian music with its songlike, simple themes, Latin-American rhythms, and melodic intervals. The original gatefold sleeve with a drawing by Olga Albizu was the object of many a collectors desire. Now, 40 years later, both LP and cover are available once again in excellent sound and print quality. Stan Getz (tenorsax); Luiz Bonfa (guitar); Antonio Carlos Jobim (guitar, piano); Maria Toldeo (vocals); George Duvivier, Don Payne, and Tommy Williams (bass); Paulo Ferreira, Dave Bailey, and Jose Carlos (drums) Selections: 1.
Manha De Carnival (Morning Carnival) 2. Balanco No Samba (Street Dance) 3. Entre Amigos (Sympathy Between Friends) 5. Chega De Saudade (Too Much Longing) 6.
Noite Triste (Night Sadness) 7. Samba De Uma Nota So (One Note Samba) 8. The Incredible Jimmy Smith 180g LP. 180 Gram Vinyl LP Reissue of 1964 Set Featuring Kenny Burrell, Grady Tate & Don Butterfield With Arrangements by Lalo Schifrin!
Mastered at Abbey Road Studios! The Incredible Jimmy Smith, that's what it says so confidently on the cover with the black cat!
The law demands that what is promised must be delivered, and a record collector is no less demanding. The fact that Smith moved the Hammond organ from the dance floor to the jazz scene and upgraded it to become a full-fledged improvisation instrument is to be found in every good dictionary of music. But what resulted must be heard to be believed. No problem for our cat, crouched low and ready to pounce.
She slinks along the Rhythm and Blues path, purrs through the night, steps nimbly to the St. Louis Blues, and gives the somewhat aged Basin Street a gentle blow with her paw. In the background is her powerful clan: Kenny Burrell with his firm grip, Don Butterfield with his strong tone, the thundering Grady Tate, and last but not least Lalo Schifrin, who watches over the haunt with a glinting eyes.
And then of course there is the Verve gang who made a recording that is as black as the cat herself. Features: 180 Gram Vinyl LP Mastered at Abbey Road Studios Back To Black's First Jazz Range Legendary Verve Title Musicians: Jimmy Smith, organ Lalo Schrifin, conductor Errie Royal, trumpet Bernie Glow, trumpet Jimmy Maxwell, trumpet Marky Markowitz, trumpet Snooky Young, trumpet Thad Jones, trumpet Ray Alonge, french horn Earl Chapin, french horn Bill Correa, french horn Billy Byers, trombone Jimmy Cleveland, trombone Urbie Green, trombone Tony Studd, bass trombone Don Butterfield, tuba Kenny Burrell, guitar George Duvivier, bass Phil Kraus, percussion Grady Tate, drums Selections: 1. Theme from "The Joy House" 2. Main Title from "The Carpetbaggers" 5.
Diana Krall The Very Best Of Diana Krall Import 2LP SET. 2007 double LP release of the first career retrospective of the Grammy award-winning star's recordings Verve Records. The tracklist features selections from six albums of the multi-platinum vocalist's extensive repertoire. The set also features three previously unreleased versions of songs made popular by Frank Sinatra, Roy Orbison and Tom Waits.
The career sweep of contemporary jazz pianist and singer Diana Krall is nicely represented on this 2LP compilation, The Very Best Of. It is no accident that Diana Krall's albums have enjoyed both critical and commercial success, to say nothing of the Grammys and other industry accolades they've garnered: the artist bridges traditional jazz with contemporary, giving standards a fresh polish that appeals to a modern sensibility while still honoring the original. This Collection sparkles with 15 gems, including Krall's treatment of the classics "S'Wonderful, " "Let's Fall In Love, " and Little Girl Blue.
Also included are three previously unreleased tracks! Naturally, it's Krall's sensual, tasteful vocals and stylish piano work that stand out, making this hits collection a great place for newcomers to acquaint themselves with Krall's gifts. This is the first collection of Diana's greatest recordings on vinyl! This 2LP Set includes 3 Tracks previously unavailable on ANY Diana Krall album: "You Go To My Head", "Only The Lonely" and "The Heart Of Saturday Night".
Peel Me A Grape 3. You Go To My Head 6. Let's Fall In Love 7. The Look Of Love LP 2 1. East Of The Sun (and West Of The Moon) 2.
I've Got You Under My Skin 3. All Or Nothing At All 4. Let's Face The Music And Dance 6. The Heart Of Saturday Night 7. Fly Me To The Moon Previously Unreleased. An American jazz critic once said that Wes Montgomery was the "best thing that could happen to a guitar". Grand words, one might say quickly racking one's brains to come up with other great names. But after only a few minutes of listening to this live recording made in 1965 at the Half Note in New York, you will forget your brain-storming and concentrate on the unfused performance of this brilliant guitarist and the superb Wynton Kelly Trio. The very first number on this album, which despite its tongue-in-cheek title "No Blues" is full of the spirit of black jazz, makes plain Montgomery's unique talents. Highly-polished arching melodies, sharply-dissonant chordal runs and free improvisation displaying brilliant technique are the characteristics of this wizard of the "semi-acoustic" guitar. The quartet's thrilling mixture of Blues, Latin and Soul is as fresh, modern and compelling as it was 30 years ago.
This is music which gets down to the nitty-gritty, is always cool and straight with no fuss or frills getting in the way: the message comes over clearly - and it makes the blood surge through one's veins! The almost tangible atmosphere of the recording venue and the pure sound quality further enhance this collector's item and guarantee a jazz happening of the very highest order. If You Could See Me Now.
PLUS THE BONUS OF THE DOUBLE LP SET OF VERVE REMIXED VOLUME 4. Two LP set of Vol.
4- Verve Remixed is a dozen hits. The Verve//Remixed series began in the spring of 2002 with the release of the unprecedented album featuring the world's most talented and sought after DJ's remixing the great vocalists of jazz. The series has been highly regarded by tastemakers and critics alike. The series has combined sales over 350,000 units on CD.
A groove rooted in soul winds its way through remixes of tracks by the likes of Roy Ayers, James Brown, Ella Fitzgerald, Nina Simone, and more. I now own all Verve Remixed on vinyl and cd. The record versions definitely add another layer to the listening experience.
Volume 4 delivers with 2 mixes of Nina Simone, Gimme Some and Taking Care of Business that make you turn the volume up! Also Diplos mix of Martha Shaws California Soul is epic! HERE ARE TWO CD VERVE REMIXES AS FREE BONUSES TO THE COLLECTION. VERVE REMIX VOLUME ONE - THIS COPY IS OPEN BUT THE CD HAS ONLY BEEN PLAYED ONCE.
The manipulation of classic jazz tracks has been part of DJ club culture since the'80s, as artists have continually scratched, looped, and sampled beats and phrases. Has been in the planning stages for years, with in-house producers inviting an international cast of remix artists to select songs from the label's vaults. The results are often tremendously successful, as the remix artists have picked up and expanded upon elements already present in the original.
The funky Latin beat of. S "Spanish Grease" gets new life from. Along with a prominent new bass line. Similarly, King Britt pumps up the Indian elements of.
S trance remix (with tabla drums) of. S "Don't Explain" is among the most arresting tracks, creating psychodrama between Holiday's original vocal and the new environment. S voice seems tailor-made for this approach, as if it has always cried out for the layered rhythmic emphasis. S take on her "See-Line Woman" is electric in its intensity--cool flute sonorities and metallic percussion embrace and catapult the original vocal into a new presence. VOLUME TWO NEW SEALED COPY.
Ever hear some music that is familiar yet undauntingly fresh , catchy and infectious that it rarley comes out of one your various CD players? Well that is exactly what happens when you listen to yet another fantastic offering from the Verve vaults of jazz classics. The reworking of the songs originally made famous by some of the jazz heavyweights(check out the names in parenthesis) breathes new life yet maintains much of the flavor of the originals resulting in a pleasing disc with integrity. The reconstruction, remixing and arranging is flat out cool.
Some remixes are more exceptional than others. A few that come to mind are the tangoesque version of Sarah Vaughns Whatever Lola Wants. Even if you have never heard the song it is guaranteed you will be singing along and groovin to the tune. Other faves include the Cuban influenced Dizzy Gillespie classsic "Manteca, " Willie Bobo's soulful "Fried Neckbones and Some Home Fries" with it's sabor Latino(Latin flavor) that barely detracts from the original version, the hyper-thump-thump beat of Nina Simone's "Sinnerman, " the music dropping out of the bottom dub effects of Hugh Masekela's "Mama" and the bizarre shrill, high pitched revamping cry out of " watchiwara" on the mellow Latin jazz standard "Soul Sauce" driven by Cal Tjaders vibes. There is only one song that doesn't fit for my tastes, although I like the song, and that is the light airy Brazilian entry by Koop on Astrud Gilberto's Here's That Rainy Day.
Overall the disc achieves one of it's goals which is to expose jazz music to the dance generation. Being pretty familiar with most of the originals I found the remixes to be very satisfying as though resusitated by a breath of fresh air. I thouroughly enjoyed this disc as much as Verve Remixed 1 and quite possibly even more.
Great art work cover too that is further detailed inside the disc with closeups of a Verve 8 track player with a piled on portable electric hot plate heating up some Verve food. If you like a plate of chill out, dance grooves served with a heaping serving of jazz classics than you'll love this disc. Check out Mymusicfix for additional Audiophile Vinyl by looking at our E-Bay Mymusicfix Store.
FACTORY SEALED OUT OF PRINT PRODUCT is IRREPLACEABLE and therefore NOT RETURNABLE. International Buyers are responsible for their countrys. The item "VERVE RECORDS AUDIOPHILE LIMITED EDITION 13 LP SET + SEVEN CD SINGLES & REMIXES" is in sale since Friday, January 30, 2015. This item is in the category "Music\Records". The seller is "mymusicfix2" and is located in Lake Forest, California. This item can be shipped worldwide.
Duration: LP
Speed: 33 RPM
Record Size: 12"
Edition: Collector's Edition
Genre: Jazz
Special Attributes: 180 - 220 gram
Style: Funk
Record Label: Verve
Release Year: 2008