10cc Original Soundtrack 200g Lp+ 10cc & Godley Creme 6 Japan Obi CD Titles Box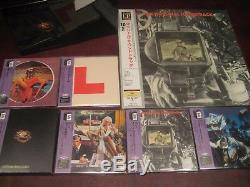 10CC & GODLEY & CREME - CONSEQUENCES BOX SET - Japanese OBI MINI REPLICA LPS WITH 6 CD TITLES Box Set - WITH LOTS OF BONUS MATERIAL. WE ARE TALKING ONLY IN THE 100'S EVER PRODUCED. IF YOU'RE A 10CC & GODLEY & CREME COLLECTOR. DON'T MISS OUT ON THE RARE FIND.
YOU WILL BE THE LAST COLLECTORS TO OWN THIS COMPLETE SET WITH THIS RARE BOX GODLEY & CREME - CONSEQUENCES CONTAINER OUTER SHELL THAT HOLDS ALL 6 TITLES WITHIN. PLUS FOR THE COLLECTOR WHO WANTS IT ALL THE AUDIOPHILE LIMITED JAPAN 200 GRAM EDITION OF 10CC ORIGINAL SOUNDTRACK VINYL LP.
WHAT IS A JAPAN "MINI/REPLICA-LP-SLEEVE" CD? Have you ever lamented the loss of one of the 20th Century's great art forms, the 12 vinyl LP jacket? Then "mini-LP-sleeve" CD's may be for you. Mini-sleeve CDs are manufactured in Japan under license. The disc is packaged inside a 135MM X 135MM cardboard precision-miniature replica of the original classic vinyl-LP album.
Also, anything contained in the original LP, such as gatefolds, booklets, lyric sheets, posters, printed LP sleeves, stickers, embosses, special LP cover paper/inks/textures and/or die cuts, are precisely replicated and included. An English-language lyric sheet is always included, even if the original LP did not have printed lyrics. Then, there's the sonic quality: Mini-sleeves have dedicated remastering (20-Bit, 24-Bit, DSD, K2/K2HD, and/or HDCD), and can often be superior to the audio on the same title anywhere else in the world. There also may be bonus tracks unavailable elsewhere.
Each Japan mini-sleeve has an "obi" ("oh-bee"), a removable Japan-language promotional strip. The obi lists the Japan street date of that particular release, the catalog number, the mastering info, and often the original album's release date.
Bonus tracks are only listed on the obi, maintaining the integrity of the original LP artwork. The obi's are collectable, and should not be discarded.
All mini-sleeve releases are tremendously limited editions mainly pressed on future orders only and once released immediately out of print. Special VERY RARE LIMITED EDITION BOX SET ONLY PRODUCED ON FUTURES FOR THIS ONE TIME PRESSING -- were only available in Japan. & TYPE IN OBIBOX INTO THE SEARCH FIELD WITHIN OUR STORES SECTION AS YOUR PERSONAL CODE AND ALL INDIVIDUAL TITLES + INFORMATION WILL APPEAR. THE GOLDEY & CREME + 10CC BOX SET - TITLES INCLUDES.
When I listened to this triple album first in 1978 I was completely surprised about this complex stuff on this CD. I had to listen over and over again to the story to discover more and more details hidden in this sound scene. This set came with a very poor booklet with no lyrics and dialogs and so I wrote a complete transcript of the album on my own... Through the years I became a virtual member of the staff around Mr.
Blint and every time I listen to the album I'm really caught in the scene. There are (also) very fine music peaces (my favorite is "Lost Weekend" sung by Sarah Vaughn) which apparently have nothing to do with the albums theme and the divorce negotiation.
The issue of this album, natures revenge to the mankind, today becomes more and more significance. Listen to this "Movie for the blind" and you will stick to it! After the very last track when you listen carefully, you can hear the birds sing again..
Five O'clock In The Morning. GOLDEY & CREME - L - Wow, Godley & Creme's "L" actually came out in 1978? It sounds way ahead of its time. Actually what this album does is take the clever and witty songwriting of the first four 10cc albums and reminds us that the classic style of 10cc is still alive and well according to Godley & Creme. This album allows us to realize that even though 10cc were releasing slightly disappointing albums like Deceptive Bends and Bloody Tourists around the same time "L" was made, Godley & Creme were obviously the better songwriters.
In other words, "L" helps bring back what we all loved about 10cc in the first place. Let's be honest- while Deceptive Bends and Bloody Tourists are decent albums in their own right, Godley & Creme were the best two elements of the classic period during the Sheet Music and How Dare You? Period of 10cc, so that's what makes "L" an album I highly recommend. However, this album also has some rather modern-sounding elements that David Bowie and Brian Eno were experimenting with in the late 70's.
As a result, "L" honestly doesn't sound very dated at all. And how about the vocal melodies and creative juices? Yes, "L" will make you remember the classic period of 10cc in the vocal melody department. Clever songwriting is dominate here. "Sporting Life" for example goes through a series of strange Frank Zappa-like vocal melodies and other really unique choices of musical instruments all being played at the most unusual times to create the ultimate weird effect.
The rest of the album does the same thing. I highly recommend this album to everyone who admires creative legends such as Frank Zappa and for those who love the first four 10cc albums. "L" is definitely a hidden masterpiece among the music world. Just because critics panned this record upon release does NOT mean it should have slipped through the cracks. Correct this problem by purchasing this amazing little album. Hit Factory - Business Is Business. Shock on the Tube (Don't Want Love). From Rochdale to Ocho Rios. Everything You Wanted to Know About!! Japanese remastered reissue of the British prog-rock act's 1976 album. Packaged in a limited edition miniature LP sleeve. Includes the bonus track'Get It While You Can. I Wanna Rule the World. I'm Mandy, Fly Me.
Art for Art's Sake. Get It While You Can. Japanese remastered reissue of the British prog-rock act's 1977 album.
Includes the bonus tracks'Hot To Trot','Don't Squeeze Me Like Toothpaste' &'I'm So Laid Back, I'm Laid Out'. Things We Do for Love. I Bought a Flat Guitar Tutor.
You've Got a Cold. Don't Squeeze Me Like Toothpaste. I'm So Laid Back I'm Laid Out. 10CC - THE ORIGINAL SOUNDTRACK. 1: One Night in Paris/Pt.
2: The Same Night in Paris. I'm Not in Love. Second Sitting for the Last Supper.
These are Japanese digitally re-mastered Mini LP replica CDs (the OBI Edition). This Limited Edition Collection has only VERY FEW made world-wide and are immediately Out of Print. Recorded from the finest Original Masters available. Comes with anti-static sleeves similar to Vinyl LPs, Cardboard packaging like an LP, includes extensive Liner Notes Booklet. Actual miniaturized version of the 12inch LP in 4inch CD version.
10 CC The Original Soundtrack - Japanese Import - Limited Edition 200 GRAM PRESSING. Is an excellent example of the art-rock genre. Produced by 10cc for PolyGram, they are Queen-esque in sound and vocals with instrumental creativity tossed with a good dose of humorous lyrics. Showcases 10cc's sweet, yet ambitious, harmonies combined with layers of instruments, lots of adrenaline, and a bit of crooning in a Dean Martin/Freddie Mercury sort of way. One of the well-known songs on this recording is "I'm Not In Love" which spent three weeks at No. Une Nuit A Paris: I. The Same Night In Paris/III.
I'm Not In Love. The Second Sitting For The Last Supper. The Film Of My Love.
Mymusicfix has been told we have the best collection of Rare, Out of Print music collectibles on E-Bay. FACTORY SEALED OUT OF PRINT PRODUCT is IRREPLACEABLE and therefore NOT RETURNABLE. Because of Postal Regulations in following countries -- U. (England, Ireland, Wales and Scotland), SOUTH AMERICAN COUNTRIES, QATAR, PHILIPPINES, SRI LANKA, ISRAEL, RUSSIA, MEXICO and MALTA.
The item "10CC ORIGINAL SOUNDTRACK 200G LP+ 10CC & GODLEY CREME 6 JAPAN OBI CD TITLES BOX" is in sale since Wednesday, January 6, 2016. This item is in the category "Music\CDs". The seller is "mymusicfix2" and is located in Lake Forest, California. This item can be shipped worldwide.
Country of Manufacture: Japan
Country/Region of Manufacture: Japan
Style: British Invasion
Duration: Box Set & SINGLE LP
Record Label: UNIVERSAL JAPAN
Release Year: 2002 CDS LATE 2000'S LP
Genre: Rock
Special Attributes: Limited Edition