BEATLES Abbey Road DELUXE EDITION + 45 BOX SINGLES & USA CD'S + T-SHIRTS + BONUS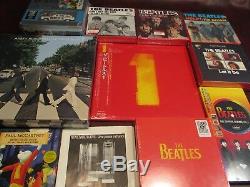 STARTING THIS COLLECTION IS - THE BEATLES - DELUXE EDITION ABBEY ROAD - FACTORY SEALED LP BOX SET. This is Rated the 8th best Album in the History of Rock N Roll. In celebration of the 40th Anniversary of the original release of Abbey Road, there was a special vinyl edition of the album released on Saturday November 7, 2009. The Beatles Abbey Road Deluxe Vinyl box includes a vinyl 12 copy of the album, a t-shirt featuring the Beatles On Apple original artwork, and a corresponding poster.
This boxset was limited to 5,000 copies worldwide and went out of print immediately. This Box set is now tremendously rare and you be one of the last people in the world to own this rare Beatles collectible. SECOND IS : THE BEATLES Number One Hits. WE'RE INCLUDING THIS BECAUSE 4 OF THE EXCLUSIVES WITH THE BONUS TEES WERE RELEASED TO COMMEMORATE THE RELEASE OF THIS DOUBLE LP SET - BEATLES Number One Hits. Package that is the COLLECTORS ORIGINAL PRESSING 1st edition valuable HIGH QUALITY EMI TOSHIBA JAPAN ORIGINAL 1ST EDITION 2003 OBI pressing with the collectible pictures and. Poster representing all of the single 45. A real BEATLES Collector's Set. SERIAL NUMBER TOJP - 60146-47. IF YOUR SOMEONE LOOKING FOR AN ORIGINAL BEATLES TOSHIBA/EMI RELEASE HERE IT IS. THIS ORIGINAL RELEASE WENT IMMEDIATELY OUT OF PRINT.
THE NEXT PART OF THIS SET ARE THESE RARE 45 SINGLES WITH DIFFERENT BEATLES T-SHIRTS DESIGNS IN EACH BOX SET. Let It Be (7-inch Vinyl SINGLE & Picture Sleeve with L/XL T-Shirt). [Limited Edition, Original recording remastered].
PLUS WHITE T-SHIRT WITH A PICTURE OF THE BEATLES FROM THE LET IT BE ERA. Exclusive 7-inch vinyl & t-shirt package featuring Help!
/ I'm Down FROM THE HELP LP 45 single and heather blue Beatles t-shirt WITH THE BEATLES NAME ON THE S/M T-SHIRT. T-SHIRTS SIZED FOR EVERY MEMBER OF YOUR FAMILY. LAST ARE THESE TREMENDOUSLY RARE MCCARTNEY & LENNON 45 SINGLES & BEATLES BOX. PLUS as a bonus THE TREMENDOUSLY RARE 2011 BEATLES SINGLES BOX WITH FOUR OF THE 45 SINGLES FROM THIS RECORD STORE DAY COLLECTION. THE BEATLES SINGLES SET BOX WITH 45 SPEED VINYL SINGLES WITH THERE ORIGINAL PICTURE SLEEVES WITH THE ORIGINAL ARTWORK - 12 X 12 INCH POSTER - SINGLE HUB & WITHIN AN EXCLUSIVE BOX SET. TITLES ARE: SINGLE ONE - TICKET TO RIDE/YES IT IS - SINGLE TWO - YELLOW SUBMARINE/ELEANOR RIGBY - SINGLE THREE - HEY JUDE/REVOLUTION - SINGLE FOUR - SOMETHING/COME TOGETHER. This is really re-releases of the U. Fan, this was a wonderful addition to your collection. They have released the copy of the original U.
Single of "Ticket To Ride" with the inscription, "From the film'Eight Arms To Hold You', " the original title of the movie Help! " The first three singles are the original mono, only the final single, "Something" b/w "Comer Together, is stereo. But the records sound great and I heartily recommend this boxed set. PAUL MCCARTNEY'S RARE UK 2004 PRESSED 45 SINGLE 7 INCHES ON LIMITED EDITION YELLOW VINYL OF PAUL MCCARTNEY'S TROPIC ISLAND HUM & CELEBRATING THE 20TH ANNIVERSARY OF WE ALL STAND TOGETHER.
HAS SMALL SPINDEL FOR PLAY. JOHN LENNON - GIVE PEACE A CHANCE & REMEMBER LOVE - WITH THE ORIGINAL PICTURE SLEEVE COVER. 45 Speed 7 Single ORIGINAL APPLE RELEASE - NEVER PLAYED & WAS PART OF A COLLECTORS FIND THAT A DISTRIBUTOR GOT A HOLD OF FROM THE LENNON ESTATE. BEATLES SINGLE SLEEVE DIE CAST COLLECTIBLE LUNCH BOX PACKAGING WITH EIGHT DAYS A WEEK LIMITED EDITION SINGLE SLEEVE DIE - CAST COLLECTIBLE TAXI + XL T-SHIRT & WALL PLAQUE.
WE ARE ADDING THE JAPANESE OBI CD BOX SET COLLECTION OF THE CAPITOL YEARS VOLUME ONE. ALBUM'S WITH BOTH STEREO & MONO TRACKS WITHIN BOX SET. Beatles' Second Album Disc Two.
Japanese Pressing of the First-ever CD Reissue of Four Albums Originally Released from Us Capitol Records in 1964 ("Meet the Beatles", "The Beatles' Second Album", "Something New", and "Beatles'65"), which Feature Us-original Tracklisting. Each Disc Contains Both Mono and Stereo Versions of Each Album. Capitol did a tremendous job with the music here.
They did exactly what they were supposed to do: take the original American Capitol stereo and mono mixes, transfer them cleanly and leave them alone. These are all here, exactly as they were on the US albums. And for that, Capitol deserves applause, because frankly I've been disappointed with the Yellow Submarine remaster, and Let It Be Naked. I don't like tampering. This box set is the genuine (American) article. And it's worth preserving for what it was and is.
The Beatles and George Martin both knew exactly why Capitol was releasing different versions of these records in America, and George Martin gave Capitol his stereo mixes for that purpose, after which Capitol added some reverb on certain songs, but the fact of the matter is that both Martin and the Beatles had no problem whatsoever with this practice. This new Meet the Beatles beats the pants off With the Beatles. It's big and bold. The Beatles 65 material has never sounded better, listen to Baby's in Black. No comparison to the Beatles For Sale CD.
For those who really wish to hear a cleaner version of With the Beatles, you can have some fun by taking these new mono mixes in this box set, and reconstructing With the Beatles from the tracks here on MTB and the 2nd Album. You'll make yourself a new version of WTB that sounds way better than the flimsy EMI disc.
But I have to say, kudos to Capitol, they did a great job musically by cleaning up the American tapes, and then leaving them alone. Albums 13 CD Box Set. Limited Edition 13CD Box Set Features Albums Not Previously Released On CD! Mymusicfix is offering some of the rarest BEATLES collectible Limited Editions ever released.
Each of these titles are very rare with most gone forever for fans & collectors of classic BEATLES Editions. You will be one of the last people in the world to own these Mccartney masterpieces. So Don't Miss Out. Because what is " here today will be gone tomorrow forever".
If you are a Collector of the top 100 best Lps and singles of all-time this pressing here is one of the rarest and most valuable pressings ever. ABBEY ROAD BOX - Here is Capitol Records last Limited Edition Vinyl Pressing of ABBEY ROAD. The nicest thing you can do for your stylus and your ears. The ultimate record -- the way music was meant to be heard.
For additional Rare, Out of Print, Factory-Sealed Audiophile Recordings, visit mymusicfix E-Bay Store by hitting the STORES TAB on this titles Home Page. The Beatles last days as a band were as productive as any major phenomenon that was about to split up. On Side One , all four Beatles contribute with John Lennons hard rocking COME TOGETHER and I WANT YOU SO; George Harrisons SOMETHING; Ringos OCTOPUSS GARDEN and Paul McCartneys MAXWELL SILVER HAMMER and OH DARLING complete this first side. A series of long fragments edited together in a sweet form dominates.
Songs like George Harrisons HERE COMES THE SUN, BECAUSE, SUN KING, MEAN MR. You can feel your energy level rise as you listen to these songs and when you hit the crescendo, they take you down gently. ABBEY ROAD has to be one of the great classic rock albums of all-times. This is one album that Beatles fans will want to add to their album collection as it shows what a force The Beatles were in rock and roll. BEATLES Number One Hits 2004 TOSHIBA/EMI LIMITED EDITION PRESSING.
This Beatles Double LP Package that is the 1st edition valuable collectors JAPAN OBI pressing with the collectible pictures and POSTER representing all of the single 45 sleeves of these 27 #1 hits of the Beatles is already Out of Print and a real Collector's Set. This album has been direct-metal-mastered from a digitally re-mastered original tape to give the best possible sound quality. Mymusicfix has listened to it AND IT SOUNDS GREAT! Rare, Limited Edition, one-time pressing - booked on futures - immediately Out of Print - OBI sash - Japanese Pressed by Toshiba/EMI.
To protect the covers from damage. Once inside the our wherehouse we then protectively seal the title in a loose re-sealable plastic cover to ensure the quality of the product. This title is brand new & never played condition. This vinyl pressing was critically acclaimed as having tremendously more dynamic range than the CD release. I Want to Hold Your Hand.
A Hard Day's Night. We Can Work It Out.
All You Need Is Love. The Ballad of John & Yoko. The Long and Winding Road.
Albums 13 CD Box Set Limited Edition 13CD Box Set Features Albums Not Previously Released On CD! 64-Page Booklet With Beatles Photos and Promotional Art. On February 7, 1964, The Beatles arrived at New York's John F. Kennedy Airport, greeted by scores of screaming, swooning fans who rushed the gate to catch a glimpse of John Lennon, Paul McCartney, George Harrison and Ringo Starr as they took their first steps on American soil.
Two nights later, on Sunday, February 9, 74 million viewers in the U. And millions more in Canada tuned in to CBS to watch The Beatles make their American television debut on The Ed Sullivan Show. In this cultural watershed moment in American history and one of the world's top-viewed television events of all time, The Beatles performed five songs on the live broadcast. "Beatlemania, " already in full, feverish bloom in The Beatles' native U.
Was unleashed with blissful fervor across America and around the world. The British Invasion had begun. To commemorate the 50th anniversary of these history-making events, The U.
Albums, a new 13CD Beatles collection spanning 1964's Meet The Beatles! To 1970's Hey Jude, will be released January 21 by Apple Corps Ltd.
Albums differed from the band's U. Albums in a variety of ways, including different track lists, song mixes, album titles, and art. The albums are presented in mono and stereo, with the exception of The Beatles' Story and Hey Jude, which are in stereo only. Collected in a boxed set with faithfully replicated original LP artwork, including the albums' inner sleeves, the 13 CDs are accompanied by a 64-page booklet with Beatles photos and promotional art from the time, as well as a new essay by American author and television executive Bill Flanagan.
A Hard Day's Night (Original Motion Picture Soundtrack), The Beatles' Story, Yesterday And Today, Hey Jude, and the U. Version of Revolver make their CD debuts with these releases.
By the end of 1963, before The Beatles' American arrival, "Beatlemania" had already sprung forth across the Atlantic to take root in the U. In early December, The New York Times published a Sunday magazine feature and "CBS Evening News" aired an in-depth report about the unprecedented frenzy over the young band from Liverpool. Radio stations in the U. Began playing The Beatles' latest U. Single, I Want To Hold Your Hand, in heavy rotation, trying to meet an insatiable listener demand. Capitol Records rushed out the American single for "I Want To Hold Your Hand" (with B-side "I Saw Her Standing There") on December 26, three weeks ahead of schedule and one month after the single's U. More than one million copies of the U. In early January 1964, Vee-Jay reissued "Please Please Me" (with B-side "From Me To You"), and Swan reissued She Loves You.
The Beatles' first Capitol album, Meet The Beatles! 1 chart position for five consecutive weeks in the U.
"I Want To Hold Your Hand" reached the top of the U. Singles chart on February 1, holding the No. 1 position for seven consecutive weeks, and within two months, more than 3.5 million copies of Meet The Beatles! The band's meteoric rise to unparalleled fame continued as "Beatlemania" swept the globe, a singular and boundless cultural marvel. The Beatles now belonged to the People, as they have ever since, with their universally-loved music and unflagging respect for humankind, advocating peace and love for all people around the world. 64-page booklet with Beatles photos and promotional art from the time, as well as a new essay by American author and television executive Bill Flanagan that examines the U. Albums and their historical significance. Version of Revolver presented on CD for the first time.
Presented in both mono and stereo. All albums are packaged in miniature vinyl sleeves that faithfully recreate the original U. LP releases down to the finest detail, including inner sleeves. Selections: CD 1 - Meet The Beatles! I Want To Hold Your Hand.
I Saw Her Standing There. It Won't Be Long. All I've Got To Do. I Wanna Be Your Man. CD 2 - The Beatles' Second Album. You Really Got A Hold On Me. You Can't Do That. CD 3 - A Hard Day's Night (Original Motion Picture Soundtrack). I Should Have Known Better (instrumental). I'm Happy Just To Dance With You. And I Love Her (instrumental). I Should Have Known Better. Ringo's Theme (this Boy) (instrumental).
A Hard Day's Night (instrumental). CD 4 - Something New. Komm, Gib Mir Deine Hand. CD 5 - The Beatles' Story. On Stage with the Beatles.
Man Behind the Beatles - Brian Epstein. Man Behind the Music - George Martin. A Hard Day's Night - Their First Movie. Sneaky Haircuts and More About Paul.
The Beatles Look at Life. Liverpool and All the World! CD 6 - Beatles'65.
I'll Follow The Sun. Everybody's Trying To Be My Baby.
CD 7 - The Early Beatles. Do You Want To Know A Secret. CD 8 - Beatles VI.
You Like Me Too Much. I Don't Want To Spoil The Party.
Tell Me What You See. From Me To You Fantasy (instrumental). You've Got To Hide Your Love Away. Another Hard Day's Night (instrumental).
The Bitter End/You Can't Do That (instrumental). You're Going To Lose That Girl. CD 10 - Rubber Soul. I've Just Seen A Face. Norwegian Wood (This Bird Has Flown).
You Won't See Me. I'm Looking Through You. CD 11 - Yesterday and Today.
And Your Bird Can Sing. I Want To Tell You. Got To Get You Into My Life.
CD 13 - Hey Jude. Don't Let Me Down. The Ballad Of John And Yoko. FACTORY SEALED OUT OF PRINT PRODUCT is IRREPLACEABLE and therefore NOT RETURNABLE. Because of Postal Regulations in following countries -- U.
(England, Ireland, Wales and Scotland), SOUTH AMERICAN COUNTRIES, QATAR, PHILIPPINES, SRI LANKA, ISRAEL, RUSSIA, MEXICO and MALTA. Mymusicfix has been told we have the best collection of Rare, Out of Print music collectibles on E-Bay. The item "BEATLES Abbey Road DELUXE EDITION + 45 BOX SINGLES & USA CD'S + T-SHIRTS + BONUS" is in sale since Monday, March 19, 2012.
This item is in the category "Music\Records". The seller is "mymusicfix2" and is located in Lake Forest, California. This item can be shipped worldwide.
Style: British Invasion
Duration: LP
Speed: 33 RPM
Record Size: 12"
Genre: Rock
Special Attributes: Limited Edition