CREEDENCE CLEARWATER 69 THREE ACOUST TECH RARE 45 RPM 12 Singles + BOX SET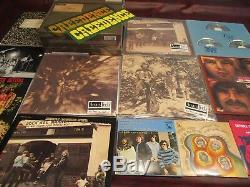 CREEDENCE CLEARWATER REVIVAL 1969 SET STARTS WITH THE COLLECTORS tremendously rare ACOUS TECH MASTERED TITLES - GREEN RIVER - BAYOU COUNTRY & WILLIE AND THE POOR BOYS RARE 12" 1ST GENERATION SINGLES WITH THE AUDIOPHILE TRACKS MASTERED 1ST TIME EVER IN THESE 45 SPEED 12" SINGLES. NOW LONG OUT OF PRINT COLLECTORS TREMENDOUSLY RARE AUDIOPHILE MASTERPIECES. EACH HAS THE HOFFMAN & GRAY VERIFYING SIGNATURES ON THE STICKER IN FRONT OF THE SHRINK WRAP FOR COLLECTORS OF THESE 1ST GENERATION 45 RPM 12 INCH SINGLES.
THESE 12 HOFFMAN & GRAY ACOUS TECH MASTERPIECES STILL SEALED CAN SELL FOR 100'S OF DOLLARS APIECE AND ARE THE ANCHOR OF THE SET. & OUR ONE AND ONLY SET FOREVER.
FACTORY SEALED 180 Gram 45 Speed LP Set. Here's How it was done : FOR THE 45 SPEED 12 INCH SINGLE. Using only the original analog master tapes, the renowned team of Steve Hoffman & Kevin Gray remastered and cut all of the titles at AcousTech Mastering, which features a pure Class-A disc-cutting system.
AcousTech is located at Record Technology, Inc. The plant where the vinyl was pressed. It is a tremendous sonic advantage to have the pressing plant plating department & mastering room in the same facility as Steve & Kevin could cut a lacquer and plated immediately. This prevents the degradation of the grooves in a lacquer which is very fragile to quick deterioration. And of course cutting at 45 speed is the audiophile choice for the highes quality.
A 45-RPM record is sonically superior to a 33 1/3 variety because of a 35 percent reduction of groove curvature compared to a 33 1/3 cut.. It means that while you can't fit as much music into a 45, the undukations of the groove that your cartridge has to track are stretched over a longer distance.
For these reissues, the music was displaced onto four sides, meaning each side contains about 10 minutes of music. This is the ultimate reissues. The only way you'll get closer to this classic music is to listen to the master tapes or have been in the studio with the artist originally during the actual session. High definition analog vinyl pressing for superior fidelity. The nicest thing you can do for your stylus and ears. The ultimate record the way music was meant to be heard. You should never pass up the opportunity to upgrade your collection. They're each very limited in their pressings and disappear with extraordinary quickness from the vinyl market. This causes prices to skyrocket because once they are gone, they are gone forever! Don't second-guess yourself with this chance to upgrade your collection because before you know it, the opportunity will have passed forever.
A bona fide rock classic, Bayou Country (released in January 1969) broke CCR wide open nationally and worldwide, containing the groups first big hits, "Proud Mary" and Born On The Bayou. " Those hits along with "Bootleg, " "Good Golly Miss Molly" and "Penthouse Pauper are all cut at 45 here. Before the year was out, 35 artists had cut cover versions of "Proud Mary" while the Bayou Country album itself seemed unkillable, remaining on the Billboard charts for 87 weeks and becoming CCRs first platinum LP. By the summer of 1969 Creedence Clearwater Revival was firmly ensconced as the American dance band, continuing to churn out hugely-successful hit singles, four of which are on this album, and cut here at 45 RPM. The title cut "Green River, " along with "Commotion, " "Bad Moon Rising" and "Lodi, " were Top Ten singles in the classic rockabilly/R&B tradition and together made this LP the groups first No.
1 album on the Billboard charts. Because of a penchant for developing tight, carefully crafted material before entering the studio, CCR recorded Green River in an astounding two-and-a-half days, after which the LP remained on the charts for 88 weeks, earning the group its second platinum LP. So popular was CCR worldwide that by 1970 the group was consistently scoring hits on both the A and B sides of its singles, a feat previously accomplished only by Elvis Presley and the Beatles. This release WILLIE AND THE POOR BOYS from November 1969 proved no exception, containing "Fortunate Son" and "Down On The Corner, " the latter becoming one of CCRs biggest hits to date. Fogertys fine gritty voice and his tight vocal overdubbing are standouts, along with his excellent renditions of "Cotton Fields" and Midnight Special.
" All of those hits plus "It Came Out Of The Sky" and "Dont Look Now (It Aint You Or Me) are cut here at 45 RPM. It Came Out Of The Sky. Don't Look Now (It Ain't You or Me). Creedence Clearwater Revival 1969 Archive Box 3LP, 3 x 45rpm 7 Vinyl & 3CD Box Set. Limited Edition 3 x 12" Vinyl LPs, 3 x 45rpm 7" Vinyl EPs & 3 x CD Deluxe Box Set! Time Capsule Of An Unparalleled Year In The History Of One Of The World's Greatest Rock Bands! Straight from the Fantasy vaults comes the 1969 Archive Box, documenting an unparalleled year of creative achievement by one of the world's most enduring rock bands - Creedence Clearwater Revival.
In this year alone, the band would release three incredible albums, have four hit US singles, perform on the Ed Sullivan show twice, tour the country and headline Saturday night of the Woodstock Festival. John Fogerty, Tom Fogerty, Doug Clifford and Stu Cook would not only push their Bayou-steeped music to great success in the states, but also across the globe. Drawing exclusively from archival material, this 1969 time capsule is intended to capture that year in real time, with interviews, reviews, charts and correspondences in addition to LPs and singles from around the world. Great efforts have been made to keep all contents as close to the original reproductions as possible, including misspellings, flipped A and B sides, colored vinyl and much, much more!
This box set includes 3 x 12 Vinyl LPs, 3 x 45rpm 7 Vinyl EPs, 3 x CDs, poster, bumper sticker, 60 page composition notebook and more, all faithfully reproduced from original memorabilia. 3 x 12 Vinyl LPs, 3 x 45rpm 7 Vinyl EPs, 3 x CDs. (Japan) red vinyl with unique cover and lyric insert 12 vinyl LP & CD. (Italy) with unique cover 12 vinyl LP & CD. Willy And The Poor Boys U.
12 vinyl LP & CD. "Proud Mary" 45rpm 7 Vinyl EP (Brazil) featuring "Proud Mary" "Bad Moon Rising" "Walk On The Water & "Lodi. "Bad Moon Rising" 45rpm 7 Vinyl EP (Japan) featuring "Bad Moon Rising" "Proud Mary" "Susie Q" & "I Put A Spell On You".
"Fortunate Son" 45rpm 7 Vinyl EP (Mexico) featuring "Fortunate Son" "Down On The Corner" "Tombstone Shadow" & "Cross Tie Walker". 60-page composition notebook with reviews, charts, bios, interviews & more. Willy And The Poor Boys. Previously unreleased 8x10 concert photo. Limited Edition Box Set with Lift-Off Lid measuring 12 3/4" x 12 3/4" x 4 1/2.
12 Vinyl LP & CD (Japan) Side 1. 12 Vinyl LP & CD (Italy) Side 1. Wrote A Song For Everyone. The Night Time Is The Right Time. Willy and the Poor Boys. 12 Vinyl LP & CD (USA) Side 1. Don't Look Now (It Ain't You Or Me).
"Proud Mary" 45rpm 7 Vinyl EP (Brazil) Side 1. "Bad Moon Rising" 45rpm 7 Vinyl EP (Japan) Side 1. I Put A Spell On You. "Fortunate Son" 45rpm 7 Vinyl EP (Mexico) Side 1.
Creedence Clearwater Revival Live at Woodstock 2LP. Historic Live Performance On Double LP! THIS SEALED ITEM HAS A BRUISE IN THE UPPER LEFT HAND SIDE OF THE JACKET OTHER THEN THAT PRISTINE. This long sought-after release celebrates the 50th anniversary of Woodstock, by giving fans a front-row seat to relive CCRs hour-long set as it was performed that historic night in August of 1969. Kicking off with "Born on the Bayou, " the album features the bands biggest singles of the day including "Proud Mary, " "Bad Moon Rising, " "Green River, " "Proud Mary" and more. Full of creative energy, John, Tom, Stu, and Doug delve deep into their music, playing extended improvisations of "I Put a Spell on You, " "Keep on Chooglin" and Suzie Q. Long-awaited release of legendary 1969 performance. Ninety-Nine And A Half (Wont Do).
Mymusicfix has been told we have the best collection of Rare, Out of Print music collectibles on E-Bay. FACTORY SEALED OUT OF PRINT PRODUCT is IRREPLACEABLE and therefore NOT RETURNABLE. Because of Postal Regulations in following countries -- U.
(England, Ireland, Wales and Scotland), SOUTH AMERICAN COUNTRIES, QATAR, PHILIPPINES, SRI LANKA, ISRAEL, RUSSIA, MEXICO and MALTA. The item "CREEDENCE CLEARWATER 69 THREE ACOUST TECH RARE 45 RPM 12 Singles + BOX SET" is in sale since Monday, September 4, 2017. This item is in the category "Music\Records". The seller is "mymusicfix2" and is located in Lake Forest, California. This item can be shipped worldwide.
Country of Manufacture: United States
Style: Blues Rock
Duration: LP
Speed: 45 RPM & 331/3
Record Size: 12"
Record Label: Acoustech Mastering 45 SINGLE - QUALITY RECORDS 33
Release Year: early 2000's 45 RPM - 2015 331/3
Edition: Collector's Edition
Genre: Rock
Special Attributes: 180 - 220 gram