DUSTY SPRINGFIELD IN MEMPHIS 45 SET + LOOK OF LOVE 45 RPM 12 Single+3LPS & 5CDS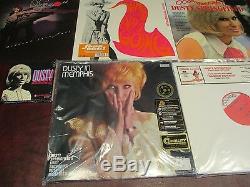 DUSTY SPRINGFIELD SET WITH AUDIOPHILE LP'S AND A BONUS MINT CD SET. THE LOOK OF LOVE - OUT OF PRINT - LAST COPY FOREVER 45 speed 12 INCH SINGLE STARTS THIS SET OF AUDIOPHILE VINYL- THIS IS CLASSIC RECORDS ORIGINAL COMPARISON 45 Speed 12 Single that has audiophile quality sound - Sealed Limited Edition LP - Also have on the flip side a 33 1/3 speed comparison single of the same track.
And of course cutting at 45 speed is the audiophile choice for the highes quality. A 45-RPM record is sonically superior to a 33 1/3 variety because of a 35 percent reduction of groove curvature compared to a 33 1/3 cut.. It means that while you can't fit as much music into a 45, the undukations of the groove that your cartridge has to track are stretched over a longer distance. For these reissues, the music was displaced onto four sides, meaning each side contains about 10 minutes of music. This is the ultimate reissues.
The only way you'll get closer to this classic music is to listen to the master tapes or have been in the studio with the artist originally during the actual session. CLASSIC RECORDS 45 RPM SPEED 12 INCH SINGLE. From Casino Royale , everyone's favorite track on this highly-collectible album , "The Look of Love" is sung by the silky and sultry voice of Dusty Springfield at her peak. This is a comparison disc cut at 33 1/3 RPM on one side and at 45 RPM on the other.
The amount of information and level on both sides is the same with the only difference being the speed at which the lathe was travelling during cutting. The difference is that a cartridge can better track the 45 RPM side compared with the 33 1/3 RPM side and the difference is worth changing the speed of your turntable -- at 33 Dusty sounds alive, at 45 she is in the room with you. The Look Of Love (45 RPM). The Look Of Love 33 1/3 RPM.
Dusty Springfield Dusty In Memphis 200 GRAM AUDIOPHILE LIMITED EDITION 45rpm 2 LP SET. Michael Fremer Rated 9/11 Music, 9/11 Sonics! Stereophile Recording of the Month, February 2012! Five Stars for Performance and Five Stars for Sonics!!! Mastered by Kevin Gray at CoHearent Audio from the Original Master tapes!
Pressed At Quality Record Pressings On 45rpm 200g Vinyl! Rolling Stone 500 Greatest Albums of All Time - Rated 89/500!
Rolling Stone 500 Greatest Songs of All Time - "Son of a Preacher Man" - Rated 242/500! Britain's greatest pop diva Dusty Springfield was the finest white soul singer of her era and this landmark Atlantic Records album from 1969 is a masterpiece, a perfect marriage of pop and soul... Contains her top 10 hit "Son Of A Preacher Man" plus several other hit singles and classic tracks..
Stereophile Magazine's Recording of the Month 5/5 Stars for both Performance and Sonics!!! This album, her debut for Atlantic Records, gave her career permanent relevance the higher groove velocity has made possible the extended high frequencies and lower noise that make this edition A Marvel of Sound. Robert Baird, Stereophile Magazine, February 2012, pg. Originally released in 1969, the concept for Dusty In Memphis was to take England's reigning female soul queen to the home of the music which had inspired her. Produced by Atlantic's Jerry Wexler and Arif Mardin and engineered by Tom Dowd, the record's highlights include "Son Of A Preacher Man, " "So Much Love, " "Breakfast In Bed, " "Just One Smile, " "I Don't Want To Hear It Anymore" and "Just A Little Lovin'".
Springfield is backed by a crack band that had previously worked with Aretha Franklin, Wilson Pickett, King Curtis and Elvis Presley among others. The musicians - collectively known as the Memphis Cats - include guitarist Reggie Young, bassist Tommy Cogbill, drummer Gene Chrismann, pianist Bobby Wood and Bobby Emmons on organ and electric piano.
Songwriting contributions came from, among others, Randy Newman, Carole King, Gerry Goffin, Barry Mann and Cynthia Weil. Dusty Springfield is one of the finest white soul singers of her era, and this is the undisputed proof. "Born in London, Springfield was a great soul singer hidden inside a white British pop queen racking up Motown-style hits such as "I Only Want to Be With You when Atlantic producer Jerry Wexler brought her way down South, to Memphis, to make this album. She was so intimidated by the idea of recording with session guys from her favorite Aretha Franklin and Otis Redding hits that she never sang a note there. Her vocals were overdubbed in New York. But the result was blazing soul and sexual honesty ("Breakfast in Bed, " "Son of a Preacher Man") that transcended both race and geography.
"Dusty In Memphis" was picked as the #9 coolest record of all time in the April 11, 2002 issue of Rolling Stone and chosen by Mojo magazine as one of the best 100 albums ever released... A recognized classic around the world! Simply put, "Dusty in Memphis" is one of the greatest blue eyed soul albums of all time!
A certified classic and must have for any collection! Controlled passion, directly communicative, and finally released from the bounds mediocre mastering. Very highly recommended for the music, for the mastering and for the superbly detailed pressing quality too from Quality Record Pressing. Michael Fremer, analogplanet, Music 9/11, Sound 9/11! Springfield was white and English but sang as if born with black American soul.
In 1968, newly signed to Atlantic and under the tutelage of its star producer Wexler, she went to the mecca of Dixie R&B to record the gospel-tinged Dusty in Memphis. She ended up doing her vocals in New York, but no matter: Her deep, heated voice captured the carnal fire of the South. Pressed at Quality Record Pressings.
Bobby Emmons, organ, electric piano, conga. The Sweet Inspirations, background vocals. Selections: LP1 - Side 1. Son Of A Preacher Man. I Don't Want To Hear It Anymore.
Don't Forget About Me. The Windmills Of Your Mind.
In The Land Of Make Believe. I Can't Make It Alone.
180 GRAM AUDIOPHILE LIMITED EDITION 33 & 1/3 Import LP. Is the third album of singer Dusty Springfield, released in 1965. The album includes the hit single "Losing You". Even more so than Springfield's two first albums, Ooooooweeee!!!
Can be considered as a compilation since it comprises tracks both from her British debut album A Girl Called Dusty as well as recordings originally issued on various A- and B-side singles and EP's - recorded and released in the UK over a period of some eighteen months. The album also features tracks from Springfield's September 1964 sessions in New York, produced by Shelby Singleton Jr, some of which would remain unreleased in her native Britain until the late Nineties. You Don't Own Me. Now That You're My Baby.
If Wishes Could Be Kisses. I'll Love You For A While. I Wanna Make You Happy. Your Hurtin' Kind Of Love. When The Lovelight Starts Shining Through His Eyes.
I Want Your Love Tonight. Import 150 GRAM LIMITED EDITION LP. Original UK Version Import LP! 150 Gram Vinyl LP Mix of British Pop, Soul & Orchestra with Dusty's Soaring, Soulful Vocals!
Includes "I Can't Wait Until I See My Baby's Face", "Take Me For A Little While", "Sunny" & "(They Long To Be) Close To You"! Is the third studio album by the blue-eyed soul singer Dusty Springfield, hailed by Rolling Stone as Britain's. The album was originally released in the UK on Philips Records in 1967. At this time, Dusty was firmly established in Britain as one of their most popular singers, having several hits in America as well. Rather than the straightforward pop of A Girl Called Dusty or the pop and soul of Ev'rything's Coming Up Dusty, Springfield ventured into more varying styles from jazz to soul, to pop and even show tunes! In the United States, the album was released in a quite altered form as The Look Of Love, titled after a successful Springfield recording originally only released as a single B-side in Britain. This import LP is the original British version of the album, and unlike the altered and rather muddled form of the U. Release, most of the music here is in the pop/soul vein that Springfield excelled at. Standout tracks include a cover of the little-known Aretha Franklin song "I Can't Wait Until I See My Baby's Face, " a spectacular version of Evie Sands' hit "Take Me For A Little While, " a jazzy remake of Bobby Hebb's "Sunny, " and a gorgeous take on Burt Bacharach and Hal David's "(They Long To Be) Close To You". " was later sampled in the song "Zenophile, from the 2004 album Destroy Rock & Roll, by Scottish electronic music artist Mylo. "I Can't Wait Until I See My Baby's Face" was sampled in the song "Nothing Can Stop Us" from the 1991 album Foxbase Alpha by Saint Etienne. The album's cover image is a famous photograph of Dusty taken by John d Green for Birds of Britain on April 12, 1967 at his Kensington studios. A print of the image is in the permanent collection of the National Portrait Gallery in London. John recalls the shoot: Dusty Springfield is an interesting story. She rang to say she could only give me half and hour.
So I tested the background and exposure, lighting, etc. Using my assistant ready for the shoot. Dusty arrived at the studio and we spent half an hour taking the pictures.
A couple of rolls of film and that was it. I expected her to rush home, but she didn't go.
Four hours later, after endless cups of coffee, she was still there. She needed a shoulder and it happened to be mine, telling me her life story. She was a very lovely talented girl. The music inside with strings and orchestration is a relentless delight. The Pat Williams arrangement of Bobby Hebb's "Sunny" with conductor Peter Knight reveals a touch of the James Bond riff, a definite sign of the times.
One can hear the wondrous voices of Madeline Bell and Lesley Duncan, the backing voices blending perfectly with the orchestration in songs like "I Can't Wait Until I See My Baby's Face" and Don't Let Me Lose This Dream. Is as perfectly surreal as its title suggests -- imagine Julie Andrews in The Sound of Music twirling around in the windmills of Springfield's mind.
This is not the driving pop of "I Only Want to Be With You" or "Wishin' & Hopin', " this is symphonic adult contemporary. "They Long to Be Close to You" is the serious and dramatic blues that the Carpenters aspired to develop. "Welcome Home" is out of this world rhythm & blues told with authority. Puts Springfield in that elite class reserved for the best of Janis Joplin, Etta James, and Ella Fitzgerald -- female vocalists who found notes in niches of songs that were unavailable to lesser mortals... Cover photo of Dusty Springfield by John d Green, now in the London National Portrait Gallery's permanent collection.
Sleeve notes by Keith Altham on back of jacket. Part of the Free Soul vinyl collection (Universal Music Japan). Free Soul vinyl collection insert (in Japanese). Don't Let Me Lose This Dream. I Can't Wait Until I See My Baby's Face.
Take Me For A Little While. They Long To Be Close To You. BONUS LP - DUSTY SPRINGFIELD'S LIVING WITHOUT YOUR LOVE - UNITED ARTISTS UA-LA936-H RELEASED IN 1978.
ORIGINAL LABEL ISSUE - STILL SEALED AND HAS A CUTOUT IN THE UPPER LEFT HAND CORNER. Every track on this album is fabulous, the ballads and the uptempo tracks.
The arrangements and production are typical of this time period. Simply put, if you love 1970s pop you'll love it. And if you're a Dusty fan, you'll love it. "It Begins Again (IBA)" and Living Without Your Love (LWYL) marked Dusty's comeback in the late 70s on the United Artiste label in America. In my opinion, LWYL is the better album.
The material is more consistent, less patchy. After IBA's lukewarm reception, Dusty wanted to move on to a more lightweight R & B sound for her follow up. Dusty's vocal performances - her phrasing in particular - on the soft soul ballads "Be Somebody", "You Can Do It", "Closet Man", "Get Yourself To Love", "I Just Fall In Love Again", "Dream On" and "I'm Coming Home Again" are magical and as good as some of the best things she has ever done, only that producer David Wolfert's bland production values didn't quite do justice to or showcase it to its best advantage. The two disco flavoured tracks (especially "Save Me, Save Me") are also fine for music of its kind. Only on "You Really Got A Hold On Me" does Wolfert really cramp Dusty's style with a horribly mechanical and leaden production, rendering it among the least inspired songs she has cut in her entire career.
There are some wonderful things in there. It may not be among Dusty's best work but it's to my mind still of great enduring quality. 2016 five CD set containing a quintet of classic albums by the legendary British vocalist: A Girl Called Dusty, Ev'rythings Coming Up Dusty, Dusty... Definitely, Dusty In Memphis and From Dusty... The CDs are housed in mini LP sleeves and packaged into a new slim-line slipcase.
Dusty was arguably the most recognizable female pop singer to ever emerge out of Britain. Her legendary career spanned four decades and notched 25 Top 20 singles. When the Love Light Starts Shining Thru His Eyes. Anyone Who Had a Heart. Will You Love Me Tomorrow?
Long After Tonight Is Over. Who Can I Turn To? If It Don't Work Out.
That's How Heartaches Are Made. It Was Easier to Hurt Him. I've Been Wrong Before. I Can't Hear You. I Had a Talk with My Man Last Night.
Ain't No Sun Since You've Been Gone. Take Another Little Piece of My Heart. I Can't Give Back the Love I Feel for You - Dusty Springfield, Keith Mansfield. This Girl's in Love with You - Dusty Springfield, Peter Knight. I Only Wanna Laugh - Dusty Springfield, Peter Knight.
Who (Will Take My Place)? - Dusty Springfield, Keith Mansfield. I Think It's Gonna Rain Today.
Second Time Around - Dusty Springfield, Peter Knight. Son of a Preacher Man. I Don't Want to Hear It Anymore. The Windmills of Your Mind. In the Land of Make Believe.
Bad Case of the Blues. Let Me Get in Your Way. Let's Get Together Soon. The Star of My Show. Let's Talk It Over.
INTO THE SEARCH FIELD WITHIN OUR STORES SECTION AS YOUR PERSONAL CODE AND ALL INDIVIDUAL TITLES + INFORMATION WILL APPEAR. The nicest thing you can do for your stylus and your ears. The ultimate record -- the way music was meant to be heard and of superior quality for any Audiophile. You should never pass up the opportunity to upgrade your collection.
They're each very limited in their pressings and disappear with extraordinary quickness from the vinyl market. This causes prices to skyrocket because once they are gone, they are gone forever! Don't second-guess yourself with this chance to upgrade your collection because before you know it, the opportunity will have passed forever. OUT OF PRINT PRODUCT is IRREPLACEABLE and therefore NOT RETURNABLE.
International Buyers are responsible for their countrys. The item "DUSTY SPRINGFIELD IN MEMPHIS 45 SET + LOOK OF LOVE 45 RPM 12 Single+3LPS & 5CDS" is in sale since Wednesday, December 17, 2014. This item is in the category "Music\Records". The seller is "mymusicfix2" and is located in Santa Ana, California.
This item can be shipped worldwide.
Genre: Rock
Style: British Invasion
Record Size: 12"
Duration: LP
Special Attributes: 180 - 220 gram
Release Year: EARLY 2000'S
Country/Region of Manufacture: United States
Speed: 45 RPM