Green Day American Idiot Smooth Kerplunk 10 Lp Set + Singles & 21st Century 10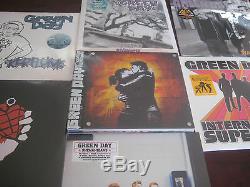 GREEN DAY - AMERICAN IDIOT DOUBLE LP GRAM SET - REPRISE RECORDS. 39 SMOOTH WITH BONUS 7 INCH SINGLE - 2008 REPRISE RECORDS RELEASE also tremendously rare now in this special edition and a real collectors find. INTERNATIONAL SUPERSTARS - GREATEST HITS RARE LP. WARNING - REPRISE RECORDS 2009 RELEASE. 21ST CENTURY BREAKDOWN 3 LP 10 VINYL SET booklet plus CD. ALL TITLES FACTORY SEALED 6 TITLES 9 PIECES OF VINYL WITH 2 BONUS SINGLES FOR 10 PIECES OF VINYL AND BONUS CD IN THE SET.
The nicest thing you can do for your stylus and ears. The ultimate record the way music was meant to be heard. You should never pass up the opportunity to upgrade your collection.
They're each very limited in their pressings and disappear with extraordinary quickness from the vinyl market. This causes prices to skyrocket because once they are gone, they are gone forever! Don't second-guess yourself with this chance to upgrade your collection because before you know it, the opportunity will have passed forever. & TYPE IN GREEN DAY INTO THE SEARCH FIELD WITHIN OUR STORES SECTION AS YOUR PERSONAL CODE AND ALL INDIVIDUAL TITLES + INFORMATION WILL APPEAR.
Strictly Limited to 1500 copies! Once they're gone, they're gone! 2010 Grammy Award Winner for:'Best Rock Album' Previously available only through the artist's website, this Limited Edition set is now available through retail for the first tine in very limited quantities! Produced by Butch Vig (Nirvana, Smashing Pumpkins, Garbage), 21st Century Breakdown continues American Idiots punk-rock opera format. Divided into three actsHeroes And Cons, Charlatans And Saints, and Horseshoes And Handgrenadesthe songs follow a young couple, Christian and Gloria, as they experience the disappointment and promise of the new millennium.
Even more ambitious than American Idiot... A record of die-hard punk ideals... (and) tightly scripted, continually ascending classic- rock excitement. Rolling Stone All music housed in special book containing 60 pages of unique album art specially designed for this edition. Features: Strictly Limited to 1500 copies! 3 10 Vinyl + Bonus CD of entire album & Booklet All music housed in special book containing 60 pages of unique album art specially designed for this edition. Pressed at Record Industry Parental Advisory Selections: 1. Song of the Century Act I - Heroes and Cons 2. Last Night On Earth Act II - Charlatans and Saints 8. Last of the American Girls 11. Restless Heart Syndrome Act III - Horseshoes and Handgrenades 14. American Eulogy (Mass Hysterical / Modern World) 18. Filling in grunge's fading pop appeal, Green Day and peers Offspring and Rancid kicked off a neo-punk revolution in the mid-90s still reverberating seven years later with bands like Blink-182 and Fenix TX. International Superhits is a compact overview of the band's career-making major label run starting with 1994's Dookie right up to new songs like the rambunctious "Maria" and choppy charm of "Poprocks And Coke" recorded specifically for this compilation. Green Day is one of the most outstanding bands to have ever risen in the music scene. They are the one of a few bands who have stayed true to their roots since their inception early in the 90's filled with Grunge and the leftovers from 80's hair bands. They have stayed true to their style and haven't let market influence and the rapid changing of the music industry effect their outlook. International Superhits is a greatest hits album that features 19 of the bands major-label songs from their four album releases, and two new songs ("Maria, " and "Poprocks & Coke"). The LP is laid in in chronological order starting with the bands breakthrough disc Dookie moving into the easily forgettable Insomniac then branching to the catchy Nimrod and finally settling down on the band's latest, and greatest effort, Warning. Looking over the track listing you still see at least six, if not more, songs that you can still hear on the radio today. It just goes to further intensify that Green Day has the staying power to be around long after the they are gone (but let's hope that never happens). Not to be outdone, Green Day also included two new tracks on this "greatest hits" album. The disc's new single, "Maria" is a catch tune that shows that the band hasn't lost their touch. The second new track "Poprocks & Coke, " while isn't as catchy as "Maria, " is certainly well deserving on this LP.
Green Day is one of the greatest bands to hit the mainstay in a long time, and we can only hope that they will continue to produce the same high caliber music we got on their last four CDs. Erich Becker thinks this is the greatest thing since Wadded Beef.
Good Riddance [Time Of Your Life]. 2002's Shenanigans is the companion piece to the 2001 release International Superhits. Where that compilation collected Green Day's singles, Shenanigans rounds up the B-sides and such ephemera as soundtrack compilations, gathering the best (plus "Ha Ha You're Dead") for a 14-track trek through the band's alternate history. Vinyl package features one regular weight black vinyl disc at Pallas in single pocket jacket with insert.
Don't Wanna Fall In Love. I Want To Be On TV. Tired of Waiting For You. Ha Ha You're Dead. Let this be a Warning: Green Day have risen from their two-year slumber, ready to reclaim their title as punk provocateurs.
Returning to the raw power, freedom and excitement of their early days, Green Day, the band that sparked neo-punk, punk metal and the ska revival, offer Warning, the most passionate and hope-filled album of their career. A dozen years before Green Day's Grammy-winning, five-times-platinum, No. 1 charting American Idiot punk rock epic, and before Dookie launched the band to multi-platinum heights, there was Kerplunk! Previously out of print and nearly impossible to find, Green Day's second full-length album, now being reissued for the first time on a major label, introduced drummer Tre Cool and defined the band's sound with memorable riffs, metal-strength momentum and a decade's worth of attitude. Includes a bonus 7 only available in this edition.
Words I Might Have Ate. This is where the garage punk-pop revival began. Before Nirvana and Nevermind, there was Green Day and the 1991 indie-released 39/Smooth.
MTV, multiplatinum albums and massive critical acclaim were still in the distance at this point. 39/Smooth was a three chord explosion of unfettered, even goofy, energy and passion. Previously out of print, this elusive album, now reissued for the first time on a major label, marks the genesis of modern rock.
Includes two bonus 7 records only available in this edition. At The Library With Waba Se Wasca. AMERICAN IDIOT - DOUBLE SET - 53rd Annual Grammy Awards.
At last, the vinyl version of the Grammy-winning, near quintuple-platinum, No. A scathing yet self-effacing punk rock epic. Winner of Best Rock Album at the 2005 Grammys. Winner of seven MTV Video Music Awards in 2005.
A bold, polished punk opera. One of the most musically sophisticated and lyrically ambitious albums of the year. Wake Me Up When September Ends. Mymusicfix has been told we have the best collection of Rare, Out of Print music collectibles on E-Bay. OUT OF PRINT PRODUCT is IRREPLACEABLE and therefore NOT RETURNABLE. Because of Postal Regulations in following countries -- U. The item "GREEN DAY AMERICAN IDIOT SMOOTH KERPLUNK 10 LP SET + SINGLES & 21ST CENTURY 10" is in sale since Monday, March 18, 2013. This item is in the category "Music\Records".
The seller is "mymusicfix2" and is located in Lake Forest, California. This item can be shipped worldwide.
Country of Manufacture: United States
Duration: LP
Speed: 33 RPM
Record Size: 12"
Record Label: VARIOUS LABELS
Release Year: VARIOUS YEARS
Genre: Rock
Special Attributes: Sealed