Phil Collins Hello Be Going Uk & Both Sides Wea 93 Lp +7 Remastered 180g+singles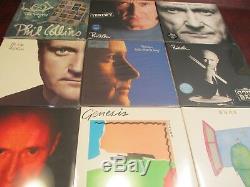 THIS COLLECTION STARTS WITH OF 2 OUT OF PRINT COLLECTORS TITLES + 5 BONUS TITLES WITH 6 PIECES OF VINYL + FOUR GENESIS TITLES WITH 5 SIDES OF VINYL LP'S. 1ST IS THE COLLECTORS PHIL COLLINS - HELLO, I MUST BE GOING!
- TREMENDOUSLY RARE OUT OF PRINT 2004 GATEFOLD JACKET 180 Gram Limited Edition. This Simply Vinyl classic LP (made in England - has the best protective packaging Ive seen) high-definition Virgin Vinyl pressing for superior fidelity. NOTE: THIS SEALED ITEM HAS A VERY SMALL SEAM SPLIT IN THE UPPER LEFT MIDDLE OF THE SECOND HALF OF THE GATEFOLD OTHER THEN THAT IT'S PRISTINE. Simply Vinyl UK products have the best collectors. Heavy duty protective packaging of the product in the business. This deluxe REUSABLE packaging allows the owner a tremendous way to store that item once opened so it stays in pristine condition for the life of the product. No other company ever put this much cost into there packaging for collectors. Collectors Alert : Many of these Simply Vinyl Titles will never be available again. Their license to produce these 180 Gram Masterpieces with Universal Records International has Ended. This means that this specific title is now out of print forever and there are very few remaining is sealed condition. This title is going to skyrocket in value & price over the next few months. So Don't Miss Out on being one of the last people to own this outstanding pressing. This is one the last pressing you will ever see at this price. The Simply Vinyl Silver Collection is currently the only way a collector can identify if these U. Abbey Road Studio pressings are Out of Print First Generation copies of some of the finest heavy vinyl masterpieces ever made. Mymusicfix has an exclusive list of these Silver Edition titles you will not find at any Audiophile Vinyl Dealer anywhere (Silver Collection refers to the marketing sticker attached on the front and back of the sealed product - not the Second Generation and beyond Gold Stickers). They are known to be some of the finest rock titles ever pressed in Limited Edition Heavy Virgin Vinyl with the best protective packaging ever within the Industry. All the titles Mymusicfix is listing in this newsletter are what we classify as "Here Today, Gone Tomorrow" Collector's titles.
These pressings are tremendously limited in these Silver Edition Pressings and Mymusicfix is down to our last few copies. Don't Miss Out on these Rare Out Of Print Pressings - Enjoy being one of the last people in the world to own one of these Silver Limited Edition heavy vinyl gems. & TYPE IN GENESIS OR PHIL COLLINS INTO THE SEARCH FIELD WITHIN OUR STORES SECTION AS YOUR PERSONAL CODE FOR ALL 1ST EDITION SIMPLY VINYL SILVER EDITION INDIVIDUAL TITLES + INFORMATION WILL APPEAR. Mymusicfix e-bay stores site for individual Titles , Rare Vinyl Records or 24k Gold CD's at. The nicest thing you can do for your stylus and your ears.
The ultimate record -- the way music was meant to be heard and of superior quality for any Audiophile. You should never pass up the opportunity to upgrade your collection. They're each very limited in their pressings and disappear with extraordinary quickness from the vinyl market.
This causes prices to skyrocket because once they are gone, they are gone forever! Don't second-guess yourself with this chance to upgrade your collection because before you know it, the opportunity will have passed forever. These Limited Edition pressings will never be available again and will be your last opportunity to own an analog masterpiece. As being apart of the vinyl breed who understand that no matter where CDs are going they will never replace the way vinyl breaths life into every track.
Audiophile is all about Vinyl being apart of your listening rotation and owning these pieces of musical history that will Blow Away any listener. So enjoy being one of the last people in the world to get your Butt Up and flip a side of vinyl. It's the purest form of listening pleasure (not to mention the artistic value of owning a 12 cover that are like the posters of an era). If you are considering divorcing a rock star, let HELLO, I MUST BE GOING.
Serve as warning of what youre likely to face once the papers have been signed and the settlements agreed upon. Collins got the last word on his relationship with first wife, Jill (he actually addresses her by name on the album), and managed to deliver it to millions of homes via this album. Tracks include - I Dont Care Anymore - I Cannot Believe Its True - Do You Know, Do You Care? - It Dont Matter To Me - Like China - Thru These Walls - Dont Let Him Steal Your Heart Away - West Side - Why Cant It Wait Till Morning - and a lively remake of The Supremes, You Cant Hurry Love. THE SECOND SELECTION IS THE ALSO TREMENDOUSLY RARE 1993 OUT OF PRINT WEA INTERNATIONAL DOUBLE LP SET PRESSING OF BOTH SIDES - Out of Print 1993 WEA EUROPEAN WARNER MUSIC rare analog sealed DOUBLE LP SET - NOT 180 GRAM.
When Both Sides came out in November of 1993. The record company didn't promote it and neither did VH1 or MTV. When I listened to it, I thought this is Phil Collins at his most serious.
It seems to me that Phil was trying to say something without the typical humor he uses. Perhaps it is because the nature of the music is so serious. I happen to like it when an artist bares his soul, and Phil did an excellent job here.
I have all of his solo ALBUMS and all of Genesis' as well, and I have to say that Both Sides is probably Phil's best solo LP. Sure, No Jacket Required has all the hits and is very well produced. Sure, Face Value and Hello, I Must Be Going are very good LPS as well, but Both Sides touches an emotional nerve that those others do not. Listen to the intimacy Phil exudes on such songs as "Can't Turn Back The Years" and I've Forgotten Everything.
" Listen to the messages imbedded in "Both Sides Of The Story" and "We're Sons Of Our Fathers. I can't think of Phil being so honest with his feelings as he is on this album. It's not the typical, uptempo Phil that most fans enjoy, it's more mature and painful. Both Sides is a must have for any rock collector. Both Sides of the Story.
Can't Turn Back the Years. We're Sons of Our Fathers.
Can't Find My Way. There's a Place for Us. We Wait and We Wonder. PLUS AS A BONUS THESE FIVE ADDITIONAL TITLES - 6 SIDES OF VINYL WITH FOUR OF THEM BEING 180 GRAM LP'S OF PHIL COLLINS MASTERPIECES.
Phil Collins Face Value 180 GRAM LIMITED EDITION LP. 180g Audiophile Vinyl LP Remastered By Nick Davis! Recreated Poses From Collins' Original Covers!
Initially released shortly after Collins' 30th birthday, Face Value was propelled to international multi-Platinum status with the help of the smash hit single In The Air Tonight. " Other notable tracks on the album include the follow-up singles "I Missed Again" and "If Leaving Me Is Easy, " as well as "Behind The Lines which was written with Collins' Genesis colleagues Tony Banks and Mike Rutherford. The career of Phil Collins is one that, by any measure, stands among the most creative, prolific, and impressive in the history of modern music. It is a career that really has been many careers - musician, singer, composer, producer, actor - from art rock beginnings to pop stardom, from big band leader to film soundtracks and Broadway. Features: 180g Audiophile Vinyl Remastered by Nick Davis Gatefold Jacket Recreated Poses from Collins' Original Covers with New Photography Selections: Side A 1.
In The Air Tonight 2. This Must Be Love 3. The Roof Is Leaking 5. Hand In Hand Side B 1. You Know What I Mean 3.
I'm Not Moving 5. If Leaving Me Is Easy 6. Phil Collins No Jacket Required 180 GRAM LIMITED EDITION LP.
Released in 1985, Collins' third album No Jacket Required topped the charts in the UK, US, and numerous other countries all over the world on a journey that would result in three Grammy® Awards (for Best Album, Best Pop Vocal Performance, Male, and Producer of the Year for Collins and co-producer Hugh Padgham) and over 20 million sales. Available as a 180-gram heavyweight audiophile vinyl format which features the remastered album as a standalone product. Features: 180g Audiophile Vinyl Remastered by Nick Davis Gatefold Jacket Recreated Poses from Collins' Original Covers with New Photography Selections: Side A: 1.
Only You Know and I Know 3. Long Long Way To Go 4. I Don't Wanna Know 5.
One More Night Side B: 6. Don't Lose My Number 7. Who Said I Would 8. Doesn't Anybody Stay Together Anymore 9.
Phil Collins Testify 180 GRAM LIMITED EDITION 2 LP SET. 180g Audiophile Vinyl Double LP Remastered By Nick Davis! Perhaps his most low-key and reflective work, as demonstrated with "This Love This Heart" and "You Touch My Heart, " Testify moves confidently into other territory with the escalating beats and rhythms of "Driving Me Crazy" and the gospel-tinged title track. The album's lead single, an interpretation of Leo Sayer's "I Can't Stop Loving You" demonstrated Collins' continuing ability to create hits, as it topped Billboard's Adult Contemporary chart. Available as a 180-gram heavyweight audiophile vinyl format which features the remastered album as a stand-alone product.
Features: 180g Audiophile Vinyl Double LP Remastered by Nick Davis Gatefold Jacket Recreated Poses from Collins' Original Covers with New Photography Selections: LP 1 Side A: 1. Don't Get Me Started 2. It's Not Too Late LP 2 Side C: 1.
This Love This Heart 2. The Least You Can Do Side D: 1. Can't Stop Lovin You 2. Phil Collins The Essential Going Back 180 GRAM LIMITED EDITION LP. Phil Collins revisits a career that can boast over 100 million sales and numerous worldwide #1 albums with the new "Take A Look At Me Now" retrospective reissue campaign in which all eight of his albums are issued as remastered editions.
Davis has also worked on all of the Genesis retrospective reissues. They also feature a bold new artwork concept in which Collins' has recreated his poses from the original album covers with new photography that was shot in the present day.
The 180-gram heavyweight audiophile vinyl features the remastered album as a stand-alone product. Phil Collins 2010 album, Going Back, is packed with covers of music from some of Motown's finest. Upon original release, the album contained 18 tracks, but has been pared down here to 14 tracks, hence the new title, "The Essential Going Back". Features: 180g Vinyl Remastered by Nick Davis Selections: 1. Girl (Why You Wanna Make Me Blue) 3.
(Love is Like a) Heatwave 4. Some of Your Lovin 5. Going to a Go-Go 6.
Papa Was a Rolling Stone 7. Loving You is Sweeter Than Ever 8.
Talkin About My Baby 10. Do I Love You 11. Never Dreamed Youd Leave in Summer 12. Take Me in Your Arms (Rock Me for a Little While) 13. Too Many Fish in the Sea 14.
Phil Collins The SINGLES LIMITED EDITION 2 LP SET. Career-spanning, 19-track compilation includes "Easy Lover", "In The Air Tonight", "Sussudio", "Another Day In Paradise", "Against All Odds", "A Groovy Kind Of Love" and more. In the Air Tonight (2015 Remastered). I Missed Again (2015 Remastered). You Can't Hurry Love (2016 Remastered).
Against All Odds (Take a Look at Me Now) [2016 Remastered]. Easy Lover - Philip Bailey & Phil Collins. One More Night (2016 Remastered). Separate Lives (Love Theme from White Nights) [2016 Remastered] - Phil Collins and Marilyn Martin. A Groovy Kind of Love (2016 Remastered).
Another Day in Paradise (2016 Remastered). I Wish It Would Rain Down (2016 Remastered).
Something Happened on the Way to Heaven (2016 Remastered). Both Sides of the Story (2015 Remastered). Dance Into the Light (2016 Remastered). Can't Stop Loving You (2016 Remastered). (Love Is Like a) Heatwave (2016 Remastered).
PLUS Five AUDIOPHILE GENESIS AUDIOPHILE TITLES GENESIS ABACAB 180 GRAM Vinyl Reissue! Half Speed Mastered & Pressed at Pallas in Germany! Abacab is the 11th studio album by British band Genesis. Once again the chart topping album "Abacab" features the deadly trio of Phil Collins, Tony Banks and Mike Rutherford at their commercial zenith.
Although not a singles band, Genesis still kept a healthy line of hits rolling (especially in the US) with releases like solid rocking "Keep It Dark, " the Earth, Wind & Fire assisted "No Reply At All, " the pounding title track "Abacab, " and the atmospheric Man In The Corner. The sound is more synth-oriented but sparingly arranged, with less of a dense texture than previous albums. The result has been called art rock.
Truly modern art rock, their last album that could bear that tag comfortably. Pressed at Pallas in Germany. 2008 mixes by Nick Davis. GENESIS DUKE 180 GRAM Vinyl Reissue!
Duke is the tenth studio album from the English rock band Genesis, released in March 1980 on Charisma Records. Duke was Genesis first ever No. 1 album and it finally provided them with a firm foothold in the USA via some of the great singles from the album, namely, the strutting Turn It On Again, the sprightly Duchess, and the excellent Misunderstanding. Duke was the album via which Genesis finally managed to shed their heavy progressive rock tag and start to branch out a bit more - especially with the additional confidence of Phil Collins' vocals after replacing Peter Gabriel. The result was an album which boosted their worldwide audience massively and paved the way for both Genesis and Phil Collins' later success. This is a major leap forward in distinguishing the sound of Genesis... 2008 Mixes by Nick Davis. Genesis We Can't Dance Half-Speed Mastered 180 GRAM LIMITED EDITION DOUBLE LP SET.
Final Album With Phil Collins On Deluxe Edition 180g Double LP! 2008 Mixes by Nick Davis!
1991's WE CANT DANCE (1991) was a #4 album and was their last to feature Phil Collins, who left in'96. Features the hits "I Can't Dance", "No Son Of Mine", "Jesus He Knows Me" and "Hold On My Heart". Genesis LAMBS LIES DOWN ON BROADWAY 180 GRAM LIMITED EDITION DOUBLE LP SET.
Limited double 180 gram vinyl LP pressing. The Lamb Lies Down on Broadway is the sixth studio album from Genesis, released as a double album in 1974 on Charisma Records. It is their last album recorded with Peter Gabriel as lead vocalist before his departure from the group in May 1975.
It's concept centers around a Puerto Rican youth in New York City named Rael and his spiritual journey of self-discovery and the characters he meets on the way. Recording was met with several incidents, including Gabriel's temporary absences and his insistence on writing it's lyrics, which put strains on the group.
The Lamb Lies Down on Broadway peaked at #10 on the UK Album Chart and #41 on the US Billboard 200. Two singles were released, "Counting Out Time" and "The Carpet Crawlers". The Lamb Lies Down On Broadway. The Grand Parade Of Lifeless Packaging. The Chamber Of 32 Doors. Here Comes The Supernatural Anaesthetist. Silent Sorrow In Empty Boats.
The Colony Of Slippermen (The Arrival / A Visit To The Doktor / Raven). The Light Dies Down On Broadway. Genesis Invisible Touch 180 GRAM LIMITED EDITION LP. Limited 180 GRAM vinyl LP pressing. Invisible Touch is the thirteenth studio album by Genesis, released in June 1986.
After a break in group activity in 1984 for each member to continue with their solo projects, Invisible Touch was recorded following the commercial success of Phil Collins's third solo album, No Jacket Required, and it's supporting tour which had increased his popularity as a solo artist. The album was written entirely through group improvisations; no material developed prior to recording was used.
Electronic drums and synthesizers are used extensively. It became the band's fourth consecutive album to top the UK charts and peaked at #3 in the U. It spawned five top five singles on the US Billboard Hot 100 chart, "Invisible Touch", "Throwing It All Away", "Land of Confusion", "In Too Deep" and "Tonight, Tonight, Tonight", with "Invisible Touch" reaching #1, making it the only Genesis single to do so.
Part One - In The Glow Of The Night. Part Two - The Last Domino. For additional Phil Collins/Genesis titles or 100's of other artists visit mumusicfix E-Bay Stores Section by hitting the Stores Tab at the top of this titles home page. A SONIC WORK OF ART. Mymusicfix has been told we have the best collection of Rare, Out of Print music collectibles on E-Bay. FACTORY SEALED OUT OF PRINT PRODUCT is IRREPLACEABLE and therefore NOT RETURNABLE. Because of Postal Regulations in following countries -- U. (England, Ireland, Wales and Scotland), SOUTH AMERICAN COUNTRIES, QATAR, PHILIPPINES, SRI LANKA, ISRAEL, RUSSIA, MEXICO and MALTA.
The item "PHIL COLLINS HELLO BE GOING UK & BOTH SIDES WEA 93 LP +7 REMASTERED 180G+SINGLES" is in sale since Friday, April 1, 2011. This item is in the category "Music\Records". The seller is "mymusicfix2" and is located in Lake Forest, California. This item can be shipped worldwide.
Style: British Invasion
Duration: LP
Speed: 33 RPM
Record Size: 12"
Record Label: SIMPLY VINYL UK 2004 & WEA EUROPE 1993
Release Year: STARTING IN 1993
Edition: Collector's Edition
Genre: Rock
Special Attributes: 180 - 220 gram