PRETTY THINGS PARACHUTE S. F. SORROW S/T SINGLES 64 68 mono COLLECTION 5 LP SET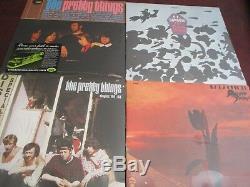 PRETTY THINGS COLLECTION STARTS WITH - PARACHUTE - STEREO RARE EARTH LABEL RS 515 WITH GATEFOLD JACKET. SORROW RARE EARTH RS 506 - BOTH THE LATTER TWO. COLLECTORS STEREO TITLES ARE RARE EARTH LABEL PRESSINGS THAT WERE PRESSED BEFORE BARCODES WERE EVER PLACED ON VINYL LP'S - THAT FOR COLLECTORS SHOWS HOW LONG THIS LP HAS BEEN OUT OF PRINT.
PLUS WE ARE ADDING PRETTY THINGS SELF TITLED HEAVY VINYL RELEASE. & SINGLES 64-68 DOUBLE LP SET MONO. 4 TITLES WITH 5 PIECES OF VINYL. & TYPE IN PRETTY THINGS INTO THE SEARCH FIELD WITHIN OUR STORES SECTION AS YOUR PERSONAL CODE AND ALL INDIVIDUAL TITLES + INFORMATION WILL APPEAR. The nicest thing you can do for your stylus and ears.
The ultimate record the way music was meant to be heard. You should never pass up the opportunity to upgrade your collection. They're each very limited in their pressings and disappear with extraordinary quickness from the vinyl market. This causes prices to skyrocket because once they are gone, they are gone forever!
Don't second-guess yourself with this chance to upgrade your collection because before you know it, the opportunity will have passed forever. Yes, PARACHUTE was Rolling Stone magazine's 1970 "Album of the Year, " and after 30+ years, you can still hear why. Brilliant playing, great songs, excellent production, real weight... This LP holds up in a way few hard rock LPs do. The Pretties managed not only to skillfully synthesize some of the most important musical elements of the time, but also became an important influence in their own rite.
The recipe for Parachute includes a generous helping of Abbey Road era Beatles, Moody Blues, Crosby Stills and Nash, and King Crimson. However, the Pretties create this blend within a framework entirely their own which in some ways works better than efforts put forth by the record's sources of inspiration. Moreover, one can distinctly hear elements that would later show up on some of the most important albums of the 70's.
I have little doubt that David Bowie was well familiar with Parachute before cutting Ziggy Stardust, or that the boys in Pink Floyd wore down the grooves of at least one copy before making Dark Side of the Moon. She Was Tall, She Was High - In the Square.
Letter - Rain - Miss Fay Regrets - Cries from the Midnight Circus. Sickle Clowns - She's a Lover - What's the Use.
SORROW - By 1967, the Pretty Things, the long-haired English group whose shocking, maraca-rattling, R&B-fueled sound and outrageous antics had made parents of teenage music fans long for the good old days of the Rolling Stones, had breathed in the perfumed air of psychedelia - and they'd moved on! Cut in the same studio where the Beatles and Pink Floyd were changing the world of pop music daily, S. Sorrow was the enthralling, cradle-to-grave saga of Sebastian F. Sorrow, a landmark release now credited with being the world's first rock opera - a full year ahead of the Who's Tommy.
She Says Good Morning 4. The Journey / I See You / Well of Destiny 9. THE PRETTY THINGS SINGLES 1964-'68 2LP (MONO) - Featured in Michael Fremer's Heavy Rotation in the September 2008 Issue of Stereophile! The Pretty Things never made it to America in the 1960s. While their contemporaries were touring the States, building brand recognition and laying the foundation for long-term careers in the business, the Pretty Things were toiling in clubs and concert halls across Europe, or more bizarrely attempting to conquer New Zealand (they succeeded only in outraging it).
Whether through bad judgment, bad timing or simple bad luck that vital mid-60s U. But somehow word still got around, and for those in the know the Pretty Things became a secret touchstone, their image and their music signifying the wildest and most exciting extremes of the English sound. Despite their low profile, the Pretty Things had an impact on countless American garage bands from the Seeds to MC5. The blinding, sometimes visceral power of the Pretty Things can be heard on their early singles, an incredible four-year run that saw them evolving from raw-edged R&B rave-ups (Rosalyn, Dont Bring Me Down), through hard riffing Mod-flavored rock (Midnight to Six Man, Come See Me), melodic pop experiments (Children, My Time), sometimes bending against their will to commercial pressures: (Progress), to daring psychedelic pioneers (Defecting Grey, Talkin About the Good Times). Few groups mastered so many genres so convincingly, nor with as much passion, conviction and bold creativity.
They were, are, and continue to be THE BEST. Features: Double LP Selections: 1. Dont Bring Me Down 4.
I Can Never Say 8. Midnight to Six Man 12. Cant Stand the Pain 13. A House In the Country 17.
Talkin About the Good Times 24. PRETTY THINGS SELF TITLED - With sneers on their mugs and hair down to here and a punkier sound than even the Rolling Stones could produce the Pretty Things were the British invasion outfit that made parents and teenagers think maybe Mick Jagger and the boys weren't so bad after all. Led by the raucous vocals of Phil May and the stringing lead guitar of Dick Taylor, the Pretty Things' first American album was stuffed with powerful workouts like "Rosalyn, " "Honey I Need" and "Don't Bring Me Down" and ranks right up there with anything the Kinks, the Who and the Stones had to offer. Don't Bring Me Down.
FACTORY SEALED OUT OF PRINT PRODUCT is IRREPLACEABLE and therefore NOT RETURNABLE. Because of Postal Regulations in following countries -- U. (England, Ireland, Wales and Scotland), SOUTH AMERICAN COUNTRIES, QATAR, PHILIPPINES, SRI LANKA, ISRAEL, RUSSIA, MEXICO and MALTA.
Mymusicfix has been told we have the best collection of Rare, Out of Print music collectibles on E-Bay. The item "PRETTY THINGS PARACHUTE S.
SORROW S/T SINGLES 64 68 mono COLLECTION 5 LP SET" is in sale since Thursday, November 21, 2013. This item is in the category "Music\Records". The seller is "mymusicfix2" and is located in Lake Forest, California. This item can be shipped worldwide.
Genre: Rock
Style: British Invasion
Record Size: 12"
Duration: LP
Speed: 33 RPM
Country of Manufacture: United States
Special Attributes: Limited Edition