Rage Against The Machine Limited Edition 7 Lp Set With 10 Inch Single & Live Set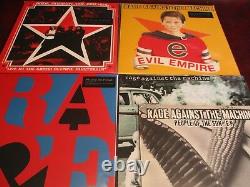 RAGE AGAINST THE MACHINE SET STARTS WITH THE 1992 EPIC/SONY RECORDS LONG OF PRINT SELF TITLED PRESSING FOR COLLECTORS. PLUS 5 OTHER LIMITED EDITION TITLES. RAGE AGAINST THE MACHINE EPIC/SONY RECORDS 1992 DATED RELEASE - this item is still in its original seal but in the upper right hand corner there in a dent in the jacket underneath the sealed item. Everything else is pristine sealed condition.
Rolling Stone 500 Greatest Albums of All Time - Rated 365/500! Rage Against The Machine were formed in 1991 by Tom Morello, Zack de la Rocha, Brad Wilk and Tim Commerford. Soon after forming they recorded a 12-track demo, most of which became their eponymous debut album. If you like your Rock n Roll hard n heavy and spat out with serious venom then Rage Against The Machine are the band for you. This is the kind of no frills throw-down angry Rock n Roll that continues the legacy laid down by the Stooges, the MC5 and the Sex Pistols.
Also theres something about any band thats bold enough to call themselves Rage Against The Machine that kind of signifies that were not dealing with wimps here! This is a brilliant debut which also contains their minor UK hit Killing In The Name.
10 INCH SINGLE 1997 RELEASE. "People of the Sun" is the second single by American rap metal band Rage Against the Machine for their 1996 album Evil Empire. The song about Mexico's Zapatista revolution was nominated for a Best Hard Rock Performance Grammy in 1998, but it lost to The Smashing Pumpkins' The End Is the Beginning Is the End. In 1997 Rage Against The Machine released the "People Of The Sun" EP on 10-inch vinyl. It was distributed by Revelation Records, who had signed lead vocalist Zack de La Rocha's previous band Inside Out before they split in 1990. Rage Against the Machine earned acclaim from disenfranchised fans (and not insignificant derision from critics) for their bombastic, fiercely polemical music, which brewed sloganeering leftist rants against corporate America, cultural imperialism, and government oppression into a Molotov cocktail of punk, hip-hop, and thrash.
Intro (Black Steel in the Hour of Chaos) live. Hadda Be Playing on the Jukebox live. 180 GRAM products have the best. Protective packaging of the product in the business. This deluxe REUSABLE packaging allows the owner a tremendous way to store that item once opened so it stays in pristine condition for the life of the product.
No other products ever put this much cost into their packaging for collectors. Rage Against The Machine Evil Empire 180 gram limited edition AUDIOPHILE LP. Features "Bulls On Parade", "Down Rodeo" & More! While Run DMC and the Beastie Boys were rap groups who rocked, Rage Against The Machine were one of the earliest hard rock bands to rap.
Tom Morello's distinctive guitar sound and vocalist Zack de la Rocha's messages of political and social consciousness came together to great effect, as RATM attained legendary status among 1990s alt-rock fans. The band released their second album Evil Empire (1996), debuting at No. 1 in the Billboard charts. Lead vocalist Zack de la Rocha is caught halfway between the militant raps of Chuck D and the fanatical ravings of a street preacher, shouting out his simplistic, libertarian slogans over the sonically dense assault of the band... Guitarist Tom Morello demonstrates an impressive palette of sound, creating new textures in heavy metal, which is quite difficult. On a sonic level the band still anchors its sound in the music of Led Zeppelin and Red Hot Chili Peppers, but its horizons have widened, and it now incorporates influences like Fugazi and Helmet. Rage also have acquired a greater understanding of hip-hop and funk and have injected the techniques of artists such as Dr.
Dre, Cypress Hill, and Sly and the Family Stone into their turbocharged rhythms. As a result, there's a greater synergy between the music and the message. Zack de la Rocha, lead vocals. Tim Commerford, bass, backing vocals.
Rage Against The Machine Renegades 180 GRAM LIMITED EDITION AUDIOPHILE LP. Features Covers of Bruce Springsteen, Bob Dylan, MC5, The Rolling Stones & More! Following 3 studio albums with original material. Rage Against The Machine offered a tribute to their musical heroes, showing a broad variety in their favorite artists and genres. 2000 proved to be their latest studio album and includes songs originally made famous by artists like Bruce Springsteen, Bob Dylan, Minor Threat, Eric B. & Rakim, EPMD, MC5, The Rolling Stones, Cypress Hill, Devo and Afrika Bambaataa.
Instead of just giving each song the hard-riffing-and-rapping treatment, each song is treated differently, resulting in a musically varied album. For instance,'Renegades of Funk' and'Microphone Fiend' have never been rocked so hard before, whereas'The Ghost of Tom Joad' is Rage Against The Machine more subtle than you've ever heard before! From the opening wah-wah guitar that kicks Eric B. And Rakim's'Microphone Fiend' wide open, Rage make clear that this won't be a canned karaoke cakewalk: The groove enters at a bloodthirsty pitch, and vocalist Zach de la Rocha drops verses with the most agility and syncopated precision he's ever displayed. Throughout the album, the rhythm section matches de la Rocha's intensity.
Zack De La Rocha, vocals. How I Could Just Kill A Man. The Ghost Of Tom Joad. Rage Against The Machine The Battle of Los Angeles 180 GRAM LIMITED EDITION AUDIOPHILE LP. The third album from Rage Against the Machine, The Battle of Los Angeles was released in 1999 and was nominated for Best Rock Album at the 43rd Annual Grammy Awards. Sleep Now In the Fire. Born of A Broken Man. Rage Against The Machine Live At The Grand Olympic Stadium 180 GRAM LIMITED EDITION Import 2LP SET. Zack de la Rocha, Tim Commerford, Tom Morello and Brad Wilk formed Rage Against The Machine in 1991 and released their highly successful self-titled debut album in 1992.
Their fiercely polemical music against cultural imperialism and government oppression, mixed into a Molotov cocktail of punk, hip hop and thrash was a groundbreaking style. Live At The Grand Olympic Auditorium is a double LP and contains material of Rage Against The Machine's last two shows recorded in September 2000. Hits such as "Killing In The Name", "Bulls On Parade", and "Bullet In The Head" are even more intense than on the studio albums and the two covers (MC5's "Kick Out The Jams" and EPMD's "I'm Housin'") complete this true collector's item. A must-have for all record collectors and RATM-fans alike! Last 2 Shows Before the Band's Break-Up in 2000.
Zach De La Rocha, vocals. Selections: LP1 - Side A. Born Of A Broken Man. Sleep Now In The Fire. & TYPE IN RAGE AGAINST INTO THE SEARCH FIELD WITHIN OUR STORES SECTION AS YOUR PERSONAL CODE AND ALL INDIVIDUAL TITLES + INFORMATION WILL APPEAR.
High definition analog vinyl pressing for superior fidelity. The nicest thing you can do for your stylus and ears. The ultimate record the way music was meant to be heard. You should never pass up the opportunity to upgrade your collection.
They're each very limited in their pressings and disappear with extraordinary quickness from the vinyl market. This causes prices to skyrocket because once they are gone, they are gone forever! Don't second-guess yourself with this chance to upgrade your collection because before you know it, the opportunity will have passed forever. FACTORY SEALED OUT OF PRINT PRODUCT is IRREPLACEABLE and therefore NOT RETURNABLE. Because of Postal Regulations in following countries -- U.
(England, Ireland, Wales and Scotland), SOUTH AMERICAN COUNTRIES, QATAR, PHILIPPINES, SRI LANKA, ISRAEL, RUSSIA, MEXICO and MALTA. Mymusicfix has been told we have the best collection of Rare, Out of Print music collectibles on E-Bay. The item "RAGE AGAINST THE MACHINE LIMITED EDITION 7 LP SET WITH 10 INCH SINGLE & LIVE SET" is in sale since Thursday, August 2, 2018. This item is in the category "Music\Records". The seller is "mymusicfix2" and is located in Lake Forest, California.
This item can be shipped worldwide.
Modified Item: Yes
Country/Region of Manufacture: United States
Custom Bundle: Yes
Duration: LP
Applicable Regions: VARIOUS LABELS AND SOME IMPORT LP'S
Speed: 33 RPM
Record Size: 12"
Record Label: VARIOUS
Modification Description: PACKAGE OF 5 TITLES AND 6 SIDES OF VINYL
Edition: Limited Edition
Non-Domestic Product: Yes
Bundle Description: SET OF VINYL LP'S
Special Attributes: 180 - 220 gram
Artist: Rage Against The Machine
Release Year: 2005