ROLLING STONES SINGLES COLLECTION JAPAN REPLICA RARE OBI CD BOX Set With STICKERS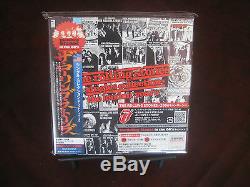 ROLLING STONES SINGLES COLLECTION JAPAN REPLICA RARE OBI CD BOX Set W/ STICKERS is offering some of the rarest Rolling Stones collectible OBI LIMITED EDITION REPLICA LP'S IN A CD ever released. Each of these titles were very Limited Editions FROM JAPAN. With most going immediately out of print for fans & collectors of classic Stones limited editions. You will be one of the last people in the world to own these Rolling Stones masterpieces. So Don't Miss Out. Because what is " here today will be gone tomorrow forever". THIS TITLE IS COMPLETELY OUT OF PRINT AND IMPOSSIBLE TO FIND IN THE JAPAN REPLICA VERSION. COLLECTORS ALSO NOTE THAT THESE TITLES ARE THE ORIGINAL 2006 RELEASE AND THAT IS VERIFIED BY THE COMBINATION OF STICKERS ON THE FRONT OF THE PLASTIC WRAP. THAT IS THE ONLY WAY YOU CAN VERIFY YOU OWN THE ORIGINAL RELEASES OF THESE JAPAN REPLICAS.
WHAT IS A JAPAN "MINI-LP-SLEEVE" CD? Have you ever lamented the loss of one of the 20th Century's great art forms, the 12 vinyl LP jacket? Then "mini-LP-sleeve" CD's may be for you.
Mini-sleeve CDs are manufactured in Japan under license. The disc is packaged inside a 135MM X 135MM cardboard precision-miniature replica of the original classic vinyl-LP album. Also, anything contained in the original LP, such as gatefolds, booklets, lyric sheets, posters, printed LP sleeves, stickers, embosses, special LP cover paper/inks/textures and/or die cuts, are precisely replicated and included. An English-language lyric sheet is always included, even if the original LP did not have printed lyrics.
Then, there's the sonic quality: Mini-sleeves have dedicated remastering (20-Bit, 24-Bit, DSD, K2/K2HD, and/or HDCD), and can often be superior to the audio on the same title anywhere else in the world. There also may be bonus tracks unavailable elsewhere. Each Japan mini-sleeve has an "obi" ("oh-bee"), a removable Japan-language promotional strip. The obi lists the Japan street date of that particular release, the catalog number, the mastering info, and often the original album's release date.
Bonus tracks are only listed on the obi, maintaining the integrity of the original LP artwork. The obi's are collectable, and should not be discarded. All mini-sleeve releases are tremendously limited editions mainly pressed on future orders only and once released immediately out of print. Japanese digitally re-mastered Mini LP replica Limited Edition Collection with OBI sash down the front VERY FEW pieces made world-wide and are immediately Out of Print.
Recorded from the finest Original Masters available. Comes with anti-static sleeves similar to Vinyl LPs, Cardboard packaging like an LP. Actual miniaturized version of the 12 LP in 4 CD version. & TYPE IN RSTONES OR FOR ADDITIONAL OBI'S JUST USE CODE OBI INTO THE SEARCH FIELD WITHIN OUR STORES SECTION AS YOUR PERSONAL CODE AND ALL INDIVIDUAL TITLES + INFORMATION WILL APPEAR. Check out Mymusicfix for other Stones items or Rare Audiophile Vinyl/CDS/SACDs by hitting ME and STORE.
Many people have told us we have the best Rare Out of Print Pristine Sealed music collectibles on E-Bay. OUT OF PRINT PRODUCT is IRREPLACEABLE and therefore NOT RETURNABLE. International Buyers are responsible for their countrys. The item "ROLLING STONES SINGLES COLLECTION JAPAN REPLICA RARE OBI CD BOX Set With STICKERS" is in sale since Friday, November 7, 2008. This item is in the category "Music\CDs". The seller is "mymusicfix2" and is located in Lake Forest, California. This item can be shipped worldwide.
Country/Region of Manufacture: Japan
Duration: Box Set
Special Attributes: Limited Edition