Sonic Youth Goo Collection Mfsl 24 Karat Gold CD + Dirty Box + 12 Single + 3 Lp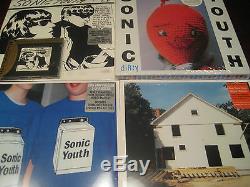 SONIC YOUTH - GOO COLLECTION - STARTS WITH MOBILE FIDELITY SOUND LABS MFSL 24-KARAT GOLD LONG OUT OF PRINT LIMITED EDITION AUDIOPHILE SEALED CD. INCLUDES J-CARD AND FOR THOSE COLLECTORS WHO WANT IT ALL AN AUDIOPHILE VINYL LP TO MAKE UP THIS SET. & TYPE IN MFCD OR 24KVALUE OR SONIC YOUTH FOR THE BEST VALUE ON THESE 24 KARAT GOLD MASTERPIECES INTO THE SEARCH FIELD WITHIN OUR STORES SECTION AS YOUR PERSONAL CODE AND ALL INDIVIDUAL MFSL 24 KARAT GOLD CD TITLES + INFORMATION WILL APPEAR. Each MFSL 24K GOLD CD was pressed directly from the original studio master session tapes ; the purest source of musical information and engineered to produce the finest CD sound quality available. Every compact disc delivers the music to you with all the depth, dynamics, and richness of the live recording session.
We invite you to hear the three-dimensional quality of the music just as the artist intended for it to sound. The proprietary mastering technology extracts and transparently stores more musical information from the original master tapes than any other method in existence. For the discriminating listener, the results include: a wider range of frequencies, increased depth and room dimension cues, clarity, and separation of instruments.
The technology substantially decreases characteristics such as hardness and glare bringing the sound of CD even closer to the warmth and openess of analogue. Aluminum particles are rough, resulting in pits and irregularities on the playing surface. Gold particles are uniform and have a constant rate of reflection giving an even, reproductive sound quality. Also, 24K Gold CDs will not oxidize or tarnish and will last for years longer than traditional aluminum CDs.
Collectors Note : BEFORE 2003 about 90% of these MFSL titles were still available at numberous audiophile dealers. Do your home work and you will soon realize that you will be one of the last people in the world to own this sonic gem. This is a true Collectors find for those individuals who want to own the finest and rarest pieces of musical history.
It is similar to owning the artists own Rare Gold Record Album in a Gold CD pressing. You will be one of the last people in the world to own these Limited Edition Long Out of Print Masterpieces that will add true value to your Collection.
On this listing before it skyrockets in value or will never be seen again. After spending the eighties terrorizing the underground alternative scene with their oddly tuned guitars and innovative song structure, this New York City art-punk band started the next decade with a major label deal and a determination to make rock loud and sexy for all concerned. GOO offers Sonic Youths strongest writing skills and sharpest melodies to date. The single COOL THING which features a cameo from Public Enemys Chuck D. Proved they had both the dynamic control and the range to meet the challenge.
Backed by an album of taut riff-driven anthems (DIRTY BOOTS and TITANIUM EXPOSE) and moments of extended feedback bliss (Lee Ranaldos MOTE), SONIC YOUTH redefined what hard rock would sound like in the nineties. Its no wonder NIRVANA respected them so. Other songs - TUNIC - MARY/CHRIST - MY FRIEND GOO - DISAPPEARER - MILDRED PIERCE - CINDERELLAS BIG SCORE - SHOOTER AND JINX. For hundreds of additional Rare, Out of Print, Factory-Sealed Audiophile Recordings, visit mymusicfix E-Bay Store by hitting the STORES TAB on this titles Home Page. What a tremendous GIFT this masterpiece of gold will make any Audiophile fan.
This 24-Karat Gold Limited Edition FACTORY SEALED CD is an audiophile collectors item that simply gives the feeling of being directly in the studio with the artist. This recording is mastered from the Original Session Tapes and the disc is custom pressed using 24-Karat Gold (known for its superior qualities and resistance to oxidation). This Out of Print Gold bonafide collectible disc has all Liner Notes, Photos, and Artwork from the Original LP faithfully recreated. A SONIC WORK OF ART. You are purchasing the Finest/Rarest of audiophile CDs.
Take the best test drive your stereo system has ever ridden. The future of these collectibles is so exciting because each piece is a sonic work of art that will never be reproduced using this expensive 24-Karat Gold mastering process. You will be one of only a few thousand in the world owning this audiophile classic. Sonic Youth Goo 150 GRAM AUDIOPHILE LIMITED EDITION LP. 1990 Album Reissued On 150g Vinyl LP! Pressed & Plated at Quality Record Pressings! Remastered From Original Analog Masters! Goo is a portrait of Sonic Youth at their most self-indulgently noisy and contentious, covering topics ranging from Karen Carpenter ('Tunic') to UFOs ('Disappearer') to dating Jesus' mom ('Mary-Christ'). Even Public Enemy's Chuck D joins the fracas on the single'Kool Thing'. Remastered From Original Analog Masters. Pressed & Plated at Quality Record Pressings. Sonic Youth Washing Machine 150 GRAM LIMITED EDITION AUDIOPHILE 2 LP SET. 20th Anniverary 150g Vinyl Double LP Reissue! Washing Machine erased any notion that the band had run out of things to say. Easily their most adventurous, challenging, and best record since Daydream Nation, the album find Sonic Youth returning to the fearless exploration of their SST records, but the group has found a way to work that into tighter song structures. It's not a commercial record, nor is it a pop record, but Washing Machine encompassess everything that made Sonic Youth innovators. Download Card IF STILL AVAILABLE. Selections: LP 1 Side A. SONIC YOUTH The Diamond Sea. (20th Anniversary Edition 12 Inch Single LP + Download Code IF STILL AVAILABLE). 20th Anniversary Edition first time vinyl single release! Newly remastered from the original stereo analog masters. Includes download card for 320kbs MP4 files IF STILL AVAILABLE. The first single from Sonic Youth's intrepid 1995 album.
Featured the radio edit of the band's sprawling epic "The Diamond Sea, " the previously unreleased outtake "My Arena" and the alternate ending version of "The Diamond Sea" which clocks in at over 25 mind bending minutes. Plated and pressed at Quality Record Pressings! The Diamond Sea LP version alt.
SONIC YOUTH Dirty 4LP BOX SET. Rare B-sides, unreleased demos and more.
Sonic Youth's alternative rock milestone. Original recordings re-mastered for total high-energy Sonic Attack. Featuring "100%, " "Sugar Kane" and Youth Against Fascism.
Orange Rolls, Angel's Spit. The End of the End of the Ugly. OUT OF PRINT PRODUCT is IRREPLACEABLE and therefore NOT RETURNABLE. International Buyers are responsible for their countrys. The item "SONIC YOUTH GOO COLLECTION MFSL 24 KARAT GOLD CD + DIRTY BOX + 12 SINGLE + 3 LP" is in sale since Tuesday, May 2, 2017.
This item is in the category "Music\CDs". The seller is "mymusicfix2" and is located in Lake Forest, California. This item can be shipped worldwide.
Genre: Rock
Special Attributes: 24k Gold Disc
Record Label: ORIGINAL MFSL 24K CD
Release Year: 1990'S CD
Country/Region of Manufacture: United States
Duration: Album or EP
Sub-Genre: Alternative & Indie