The Who Box Set + Singles + Bbc +wight 70 + Townshend & Entwistle Solos +45s Set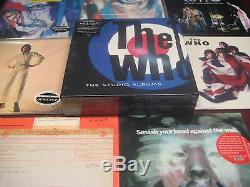 STARTING THE COLLECTION IS - The Who The Studio Albums 180 GRAM 14 LP Box Set - Limited Edition 180 Gram Vinyl 14LP Super Deluxe Box Set! 11 Studio Albums on 14 Discs from 1966's "The Who Sings My Generation" to 2006's "Endless Wire". + 50TH ANNIVERSARY 2 LP 180 GRAM HITS SET. + LIVE CONCERTS & RARE SOLO LP'S.
+ The Who The Reaction Singles 45 rpm 7 Vinyl LIMITED EDITION Box Set (5 Disc). The Who The Brunswick Singles Volume 1 45rpm 7 Vinyl Box Set (8 Discs). PLUS THIS RARE 45 ON DECCA LABEL - WITH MAGIC BUS & SOMEONE'S COMING SINGLE - THIS IS A CUTOUT.
THEN WE HAVE THESE ADDITIONAL SOLO TITLES. PETE TOWNSHEND SCOOP 180 & 200 GRAM 1st Editions pressings will skyrocket in price so Don't Miss Out. Pete Townshend - WHO CAME FIRST - This Limited 1st Edition CLASSIC RECORDS 200 GRAM out of print 1st Generation WITH THE COMPLETE WRAPPING Audiophile LP (from the Original Session Tapes) was mastered by Classic RECORDS. Audiophile Mastered LP 200 Gram Heavy Vinyl LP has been critically acclaimed as the finest and quietest ever produced of this recording. The music on these records made using Classic Quiex SV is more detailed, has richer harmonics and a more precise soundstage presentation Quiex SV is used exclusively and will have a sticker that identifies them as such.
So, sit back, relax, enjoy the music, and remember the sound.. SMASH YOUR HEAD AGAINST THE WALL. 1ST EDITION EVER PRESSED ON 180 GRAM VINYL EARMARK RECORDS RARE OUT OF PRINT RE-ISSUE OF HIS 1971 MASTERPIECE. THE LIVE SECTION - BBC SESSIONS LIVE - DOUBLE LP SET ORIGINAL POLYDOR ORIGINAL 2000 U. RELEASE - Limited Edition analog Vinyl U. OVER A DECADE OUT OF PRINT AND A MUST FOR ALL WHO FANS. PLUS WE ARE ADDING THE 3 COLORED VINYL BLUE - RED & WHITE OF THE WHO LIVE AT THE ISLE OF WIGHT FESTIVAL 1970 - THIS IS THE OUT OF PRINT 2009 COLORED VINYL ISSUE.
AND LASTLY FOR COLLECTORS A RARE BONUS collectors SLEEVE ONLY NO JACKET. WE WERE ASKED TO SEND BACK THE JACKET FOR REPLACEMENT AND KEEP THE SLEEVE AND VINYL. WE NEVER RECEIVED THE JACKETS BACK FOR REPLACEMENT BECAUSE THE ITEM WENT OUT OF PRINT AND NO REPLACEMENT JACKETS WERE AVAILABLE.
THIS RARE SLEEVE AND STEREO VINYL ARE BRAND NEW NEVER PLAYED WITH A LOT OF BONUS TRACK THAT WAS ONLY AVAILABLE ON THIS EDITION FOR COLLECTORS OF RARE AND VALUABLE WHO VINYL. The nicest thing you can do for your stylus and your ears. The ultimate record -- the way music was meant to be heard and of superior quality for any listener.
& TYPE IN LIVELP OR FOR WHO TITLES USE THE CODE THEWHO INTO THE SEARCH FIELD WITHIN OUR STORES SECTION AS YOUR PERSONAL CODE AND ALL INDIVIDUAL TITLES + INFORMATION WILL APPEAR. The Who The Studio Albums 180 GRAM 14 LP Box Set. Limited Edition 180 Gram Vinyl 14LP Super Deluxe Box Set!
The Worlds Greatest Rock Band. The Who stands alone in rock music. The most explosive live act ever to appear on stage, propelled by the most staggeringly brilliant rhythm section in all popular music, layered with deafening power chords and thunderous vocal fury, The Who transcended its original billing as "Maximum R&B" to become the most musically inventive and structurally innovative band of all time. Together, the four divergent personalities of The Who produced a hurricane. Each of them was a pioneer.
Wildman drummer Keith Moon beat his kit with a chaotic elegance; stoic bassist John Entwistle held down the center with the melodic virtuosity of a solo guitarist; raging intellectual Pete Townshend punctuated the epic universality of his songs with the windmill slamming of his fingers across his guitar strings; and Roger Daltrey roared above it all with an impossibly virile macho swagger. They exploded conventional rhythm and blues structures, challenged pop music conventions, and redefined what was possible on stage, in the recording studio, and on vinyl. Never before or since has spiritual and intellectual brilliance sounded so gloriously furious.
Alone among the great bands, The Who has found itself at the center of every major rock event-- Monterey, Woodstock, the Isle of Wight, the Concert for Kampuchea, Live Aid, the Concert for NYC. In any era, The Who is a touchstone for rock and roll greatness.
They have been inducted into both the US Rock and Roll Hall of Fame and UK Music Hall of Fame. Their charitable work is legendary with millions of dollars raised over the years for a variety of causes.
The 1965 debut album for the group led by vocalist Roger Daltrey produced right after the group's first singles hit the charts. Critics often rate it as one of the best rock albums of all time. Rolling Stone 500 Greatest Albums of All Time - Rated 237/500! A Quick One, released in 1966, was released in the U. Under the name Happy Jack rather than the sexually suggestive title of the UK release.
Rolling Stone 500 Greatest Albums of All Time - Rated 383/500! Released in 1967, The Who Sell Out is a concept album containing a collection of songs interspersed with fake commercials and public service announcements. The intended irony relates to the fact that The Who were making commercials during that period of their career. Rolling Stone 500 Greatest Albums of All Time - Rated 113/500! Tommy is a double album telling a story of a'deaf, dumb and blind boy' who becomes the leader of a messianic movement.
It was the first musical work to be billed as a rock opera. In 1998, the album was inducted into the Grammy Hall of Fame for'historical, artistic and significant value'.
Who's Next, released in 1971, has origins in a rock opera conceived by Pete Townshend called Lifehouse. The complex project did not come to fruition at the time and instead, many of the songs written for the project were compiled onto this album of unrelated songs. The critical and commercial success upon release was certified 3X platinum by the RIAA in 2009. The group's second rock opera, Quadrophenia, was released in 1973 and involves social, musical and psychological events from an English teenage perspective set in London in the mid-'60s. The title of the album refers to the four distinct personalities of'Jimmy' and also, to the quadrophonic sound, which was, at the time, a recent invention.
Released in October 1975, The Who By Numbers was named the tenth best album of the year in The Village Voice Pazz & Jop critics poll. The eight studio album by the band, Who Are You was released in 1978.
The title track was, and still is, perhaps their most well-known song. This was the last album with Keith Moon as the drummer; he died approximately three weeks after its release.
1981's Face Dances sees a change in the lineup with Kenney Jones replacing the late Keith Moon on drums. The first single from the album "You Better You Bet" was one of the first music videos aired on MTV in 1981. It's Hard was the last album to feature bassist John Entwistle and drummer Kenny Jones and the group's final album prior to 2006's Endless Wire. The 11th album, Endless Wire, released in 2006, features Roger Daltrey on lead vocals and Pete Townshend on stringed instruments, keyboards, etc. Plus a host of additional musicians rounding out the line-up. Strictly Limited Edition Box Set. 11 studio albums (14 LPs in all). All Albums Mastered by Jon Astley at Close To The Edge (except "Endless Wire") and Miles Showell ("Endless Wire") at Metropolis Studio!
All Original LP Artwork with Posters, Inserts & More! Tommy' six-panel fold out / 12-page color booklet.
Face Dances' poster of the album cover as insert. Sell Out' poster on the original pressings. Rigid-box with full color/matt lamination & spot gloss varnish. Box Dimensions: 13" L x 3 1/4" W x 12 3/4 H. Keith Moon, drums (first eight albums).
Kenney Jones drums (9th and 10th albums). Heat Wave (or Happy Jack) TBA. A Quick One, While He's Away.
Radio London (Days of the Week). Armenia City In the Sky. Mary Anne With the Shaky Hand. Radio London (Church of Your Choice).
I Can See For Miles. Do You Think It's Alright? Tommy Can You Hear Me? We're Not Gonna Take It. Love Ain't For Keeping.
Won't Get Fooled Again. The Punk and the Godfather. Is It In My Head? Love, Reign O'er Me.
They Are All In Love. In A Hand or A Face. Don't Let Go the Coat.
How Can You Do It Alone. I've Known No War. Why Did I Fall For That? A Man Is A Man. A Man In a Purple Dress.
God Speaks of Marty Robbins. Wine & Glass: A Mini-opera. They Made My Dream Come True. The Who The Reaction Singles 45 rpm 7 Vinyl LIMITED EDITION Box Set (5 Disc).
45rpm 7 Vinyl 5 Disc Box Set! Volume two of a four part set of Who singles by labels (Brunswick, Reaction, Track, and Polydor). Five 7 singles from the Reaction label - 1966, pressed on heavyweight vinyl with sleeves reproducing the period graphics with die-cut center holes. 45rpm 7 Vinyl Box Set (5 discs).
Sleeve reproduce period graphics with die-cut center holes. B: Circles (aka Instant Party).
B: Waltz For a Pig. A: I'm A Boy. Disc 4: Ready Steady Who EP: Side A. B: I've Been Away.
Limited Edition 45rpm 7 Vinyl 8-Disc Box Set! The Brunswick Singles Box is the first of four limited edition box sets covering the four labels The Who released music through.
Volume 1 contains seven 7 singles from the start of the bands career pressed on heavyweight vinyl with paper sleeves (reproducing the period graphics front and back with die-cut center holes) in a rigid lid-and-tray outer box. A 7 sized color booklet featuring liner notes for each release comes with the package as well. Also included is a bonus 7 which features the bands first single as the High Numbers "Zoot Suit" b/w I'm The Face. " Some of the songs featured are "I Can't Explain, " "Anyway, Anyhow, Anywhere, " "My Generation, " as well as unreleased single "Circles" backed with "Instant Party Mixture. The ultimate collector's items! 45rpm 7 Vinyl 8-Disc Box Set. Housed in rigid'lid-and-tray' outer box - full color and matte lamination. Paper sleeves reproducing the period graphics front and back with die-cut center holes.
7 sized 8-page color booklet. Liner notes by Who biographer Mark Blake. Side A: I Can't Explain. Side B: Bald Headed Woman.
Side A: Anyway, Anyhow, Anywhere. Side B: Daddy Rolling Stone. Side B: Shout And Shimmy.
Side B: Instant Party Mixture. Side A: A Legal Matter. Side A: The Kids Are Alright. Side B: The Good's Gone. Side B: I'm The Face. (Released on Fontana Records as The High Numbers). The Who The Who Hits 50TH ANNIVERSARY EDITION 180 GRAM LIMITED EDITION 2 LP SET. 50th Anniversary Compilation on 180g Vinyl Double LP! Pressed at Quality Record Pressings!
There is no more significant a milestone in Rock Music than the 50th Anniversary. Alongside The Beatles and The Rolling Stones, The Who complete the holy trinity of British Rock bands that have the honor of celebrating that landmark. Through the decades, The Who redefined rock music as we know it and their influence continues in all areas of popular culture to this day. The Who Hits 50 is the definitive collection of the band's greatest tracks from their very first recordings as The High Numbers right up to the present day with the brand new track Be Lucky. " A classic Who rocker, "Be Lucky is The Who's first new material in eight years.
The track was produced by Dave Eringa best known for his work with the Manic Street Preachers and Wilko Johnson + Roger Daltrey. Recorded at the end of the summer at British Grove and Yellowfish Studios, "Be Lucky" features long time Who live players Zak Starkey (drums) and Pino Palladino (bass), with the keyboards being provided by ex Style Council and Dexys sideman Mick Talbot. In keeping with their ongoing support for Teenage Cancer charities, the band have donated their royalties from the song to Teen Cancer America, a charity founded in 2011 by Roger Daltrey and Pete Townshend.
For fair-weather fans or newcomers, it does its job well and has nice artwork to boot. Pressed at Quality Record Pressings. Features the brand new track "Be Lucky". Selections: LP 1 - Side 1. Zoot Suit (as The High Numbers).
LP 1 - Side 2. LP 2 - Side 1. Won't Get Fooled Again (Single Edit). LP 2 - Side 2. PETE TOWNSHEND'S WHO CAME FIRST - 200 GRAM ORIGINAL RELEASE FROM CLASSIC RECORDS AND IS THE ONLY 200 GRAM ANALOG PRESSING EVER OF THIS TITLE.
Pete Townshend's first solo album is a homespun, charming forum for low-key, personal songs that weren't deemed suitable for The Who, as well as spiritual paeans (direct and indirect) to his spiritual guru Meher Baba. Who fans will be immediately attracted by the presence of a couple of songs from the aborted Who concept album Lifehouse (much of which ended up on Who's Next), "Pure & Easy" and Let's See Action. The Who did eventually release their own versions of both those songs.
This record shows a folkier and gentler side to The Who's chief muse. "Sheraton Gibson" is a neat tune about rock & roll road life, and "Time Is Passing" takes very subtle inspiration from Baba.
Most of the rest of the album contains some of the most unusual pieces Townshend has released: his acoustic cover of Jim Reeves' "There's A Heartache Following Me" (recorded because it was one of Baba's favorite tunes), "Evolution" (which is actually pretty much a solo track by his buddy Ronnie Lane of The Faces), "Parvardigar" (adapted from Baba's Universal Prayer), and "Content" (a philosophical poem by Maud Kennedy that Townshend put to music). Transferred from the two track 1/4 analog masters on the Bernie Grundman all tube cutting system and pressed on Classic s 200g Quiex Super Vinyl Profile.
Forever's No Time At All 4. Let's See Action 5. These PETE TOWNSHEND SCOOP SETS ON 180 OR 200 GRAM 1st Editions pressings will skyrocket in price so Don't Miss Out.
Classic Records has proven to be an Audiophile Company second to none in the new millennium. But ALL CLASSIC RECORDS TITLES ARE NOW OUT OF PRINT SINCE THE COMPANY WENT OUT OF BUSINESS IN 2010.
These Editions have become some of the rarest pressings in the Audiophile Collector's Market. Just try to find them at any Audiophile Retailer after the next few months. When you take that into consideration, what will this Audiophile Pressing will be worth in the years ahead? It could be one of the most collectible pressings ever especially since Classic records is no longer in business.
How rare and valuable are each one of these titles now still Factory Sealed Priceless! Mymusicfix has a very limited amount of these now Rare Factory Sealed pressings. We're sure you may not have known about some of these titles existed. Have fun collecting these Masterpieces! These are tremendous titles and artists that Mymusicfix still has in these LIMITED Edition STICKERS but we have very few pieces left of each title and prices will continue to rise as inventory continues to dwindle.
THESE MASTERPIECES HAVE OFFICIALLY GONE OUT OF PRINT FOREVER ON SEPTEMBER 1ST 2009. THESE AUDIOPHILE GEMS WILL GO THRU THE ROOF AS THE MOST VALUED PRESSING EVER ON VINYL. A second collected volume of demo versions of songs destined to be considered for recording by The Who, this 1987 release on Atco Records is as an even stronger collection than it's 1983 predecessor. It (again) contains rough, acoustic workups of many Who standards in their infant form such as You Better You Bet, Pinball Wizard, Happy Jack, Substitute, Pictures of Lily and The Kids Are Alright among others. The curiosity lies solely in the head-arrangements on songs that were to become associated with time and enveloped within, Roger Daltry's vocal gymnastics.
Here, sung by Townshend himself, one can sense the writer's distinct persona. The comparison to eventual "more famous" versions is fascinating in most cases.
The exposure of these workups reveals how great these songs really are, stripped down. You Better You Bet 2.
Girl In A Suitcase 3. La La La Lies 14. Don't Let Go The Coat 22.
The Kids Are Alright 23. Prelude The Right To Write 24. In a world of trendy popsters, the King of Rock Royalty emerges with a new solo masterpiece. Scoop 3 200 gram pressing is a continuation of Townshend's infamous Scoop projects. Proving that carefully orchestrated lillabies, such as I Think I Like It the Way It Is, can co-exist with the cutting, raw power of bedroom style recording in Dirty Water. Townshend miraculously brings to life a notebook of his art in a fashion that may seem a bit unorthodox to some, but fully realized by devoted music lovers of all ages. This three LP set offers many moods to travel through, only to realize that Townshend is still a sure bet when it comes to pleasure, beauty, and intensity. Can You See The Real Me.
I Like It The Way It Is. No Way Out (However Much I Booze). All Lovers Are Deranged (Peter's Version). Wired To The Moon (Part 2). JOHN ENTWISTLE'S SMASH YOUR HEAD AGAINST THE WALL - 180 GRAM 1ST EDITION RE-ISSUE OF HIS 1971 MASTERPIECE.
As a member of The Who, his outstanding bass work brought the lowly bass man into the forefront of rock'n'roll and proved that the bass guitar really did serve a purpose. Although John Entwistle had been writing music with The Who, by the early'70s, Entwistle's debut solo album, Smash Your Head Against The Wall, took his playing off in new directions, although the overall sound is like Who at their heaviest.
Pick Me Up (Big Chicken). What Are We Doing Here? What Kind Of People Are They?
THE WHO - BBC SESSIONS LIVE - DOUBLE LP SET ORIGINAL POLYDOR 2000 U. To protect the covers from damage. Once inside the our warehouse we then protectively seal the title in a loose re-sealable plastic cover to ensure the quality of the product. This title is brand new & never played condition.
One of the most creative and explosive bands of the'60s. The Who didn't record an official live album until 1970.
For fans of the revved-up, introspective, and humorous fare that made records such as My Generation, Sell Out, and A Quick One instant classics, 1970 was a good three years too late. Rather than referring to sometimes-dodgy bootlegs to discover what " Pictures of Lily, " "Disguises, " or "Anyway, Anyhow, Anywhere" sounded like live, we are now presented with a surprisingly clear document of the band at--arguably--their peak. A fabulous portrait of the artists as a young band, the disc brims with minor revelations--chief among them that they were pretty sorry as an R&B outfit and that (surprise) with Moon, Entwhistle, and Townshend bashing about, even a mid-tempo number like "Happy Jack" was a total scorcher live. The band blazes through these songs so fast -- and you thought the Ramones and the Minutemen invented that kind of lightning-speed concision -- that it's easy to miss how perfectly constructed they are. The Who's sound rests on the tension between carefully defined pop-song structures pushed to the breaking point by the band's propulsive, chaotic power.
Singer Roger Daltrey and bassist John Enthwhistle are hardly slouches, but guitarist Pete Townshend and drummer Keith Moon are true wonders. They wail with such unrestrained glee that they frequently threaten to blow these songs apart. Then, by some miracle, they land in time, and the song ends. All that in two-and-a-half minutes -- with lovely, Beach Boys-derived vocal harmonies to boot.
That's why it's earned the right to be called classic rock -- and why this disc is such an unadulterated pleasure from start to finish. My Generation [Radio 1 Jingle]. Just You and Me, Darling.
Quick One, While He's Away. Boris the Spider (Radio 1 Jingle). 3 COLORED VINYL BLUE - RED & WHITE OF THE WHO LIVE AT THE ISLE OF WIGHT FESTIVAL 1970. This recording is pretty similar in sound and content to the expanded Live at Leeds album, except there's much more from Tommy , and a few semi-obscure numbers like I Don't Even Know Myself , Water , and Naked Eye. If you do like the Who a lot, Isle of Wight is worth having.
The question is not'which group put out the greatest live album of all time? But rather' which is the greatest live album ever, Leeds or Wight? This may sound blasphemous, but I'm going with Wight (though Leeds is simply astounding), and here is why.
Leeds, from a technical standpoint, is nothing short of flawless. But it is lacking one major element - ENERGY. If you don't believe me, track down a bootleg copy of Tommy at the Leeds - sound aside, The Who sound almost dead. John and Keith are on fire at Leeds, but Roger sounds like he has a cold, and Pete, while making sure to be technically amazing and flawless for all of the'intelligent' college students, seems to be going through a bout of depression. At WIGHT, however, this flaw is gone and in a big way. Keith is occasionally sloppy, yes, but the energy level is absolutely incredible. Because the group was playing in front of 500,000 completely stoned dumbasses, and there was nothing like a bunch of idiots to get Pete going. His guitar falls out of tune a few times, and he misses a chord here and there, but his riff-work is better than anything I've ever heard before by _anybody_, and that guitar-tone... That tone just SCREAMS angry and energetic exhiliration. Meanwhile, Pete is obviously having fun, with his stage banter reaching Ian Anderson levels of psycho humor, and the feedback that he produces in his windmills and guitar-shaking is incredible.
AND DON'T FORGET ROGER! Roger NEVER sounded better than this on any album, live or studio. Tommy is incredible in no small thanks to Daltrey.
And listen to his incredible, loud, growling singing in Water, Shaking All Over, and ESPECIALLY Spoonful. It will blow you away. I love both of these albums, but if I have to choose between the two, I'll go with Wight any day of the week. If I have headphones, that is - for some reason, there's a lot of air in the mix that completely disappears when the music is coming at you from all sides. Alternatively, it's good driving music - turn the stereo up loud and the bass high, and you will be weak-kneed when it's all over. I Don't Even Know Myself.
Eyesight To The Blind (The Hawker). Do You Think It's Alright. WE WERE ASKED TO SEND BACK THE JACKETS FOR REPLACEMENT AND KEEP THE SLEEVES AND VINYL. WE NEVER RECEIVED THE JACKETS BACK FOR REPLACEMENT.
THIS RARE SLEEVE AND VINYL ARE BRAND NEW NEVER PLAYED WITH A LOT OF BONUS TRACK THAT WAS ONLY AVAILABLE ON THIS EDITION FOR COLLECTORS OF WHO VINYL. My Generation , The Who's first album , has little of the roaring, raging quartet heard on Who's Next , Live At Leeds and Quadrophenia. But the Mod-fueled, American R&B-inspired sense of ambitious pop that powers A Quick One , Sell Out and even Tommy isn't so hard to find here. ONLY AVAILABLE ON THIS OUT OF PRINT EDITION.
Format: Vinyl, LP, Album, Deluxe Edition, Reissue, Stereo. I Can't Explain BONUS TRACK. Backing Vocals The Ivy League (tracks: B7,). Bass Guitar, Vocals John Entwistle.
Lead Guitar, Vocals Pete Townshend. Piano Nicky Hopkins (tracks: A1 to B6,), Perry Ford (tracks: B7). Written-By Townshend (tracks: A1, A3 to A7, B2, B4, B6, B7,). Disc 1: The Original Album. All tracks recorded at IBS Studios, London except'I Can't Explain' recorded at Pye Studios, London. Issued with printed inner sleeves SHOWN IN THE PICTURE. OUT OF PRINT PRODUCT is IRREPLACEABLE and therefore NOT RETURNABLE. (Ireland, Scotland, England, Wales), SOUTH AMERICAN COUNTRIES, PHILIPPINES, SRI LANKA, QATAR, ISRAEL, RUSSIA, MALTA OR MEXICO. International Buyers are responsible for their countrys. A SONIC WORK OF ART. This is a Limited Edition gem. The item "THE WHO BOX SET + SINGLES + BBC +WIGHT 70 + TOWNSHEND & ENTWISTLE SOLOS +45S SET" is in sale since Wednesday, June 22, 2016. This item is in the category "Music\Records".
The seller is "mymusicfix2" and is located in Lake Forest, California. This item can be shipped worldwide.
Duration: LP
Speed: 33 RPM
Record Size: 12"
Edition: Collector's Edition
Special Attributes: 1st Edition
Country of Manufacture: United Kingdom
Style: British Invasion
Artist: The Who
Record Label: Geffen
Release Year: 2012